How the government could become the next Airbnb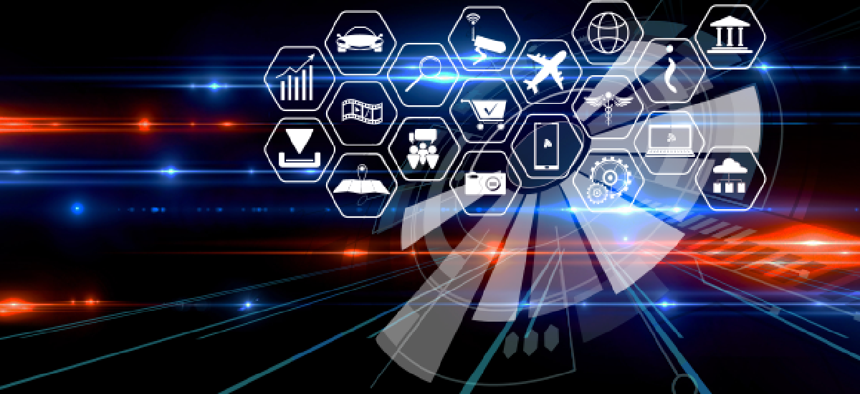 Emerging and established technologies hold great potential for addressing our nation's evolving challenges; the trick is in helping government agencies integrate them into their operations.
When COVID-19 upended travel and hospitality, Airbnb could have easily collapsed. Instead, it quickly responded by using customer feedback to re-engineer its structure and algorithms. Airbnb became the biggest IPO of 2020 and its stock is expected to soar in 2021.
Our future requires this ability to rapidly transform. Still, in so many facets of day-to-day life, we can see areas of our government continue to operate as they have for decades: siloed and underpinned with labor-intensive, dated technologies. As a result, it's easy to feel trapped in quicksand during a time when we're facing increasingly complex challenges, whether skyrocketing debt, poverty rates that seem inescapable or historically low trust in public institutions. This doesn't have to be our reality.
As a society, we've already created the technology and methods to address these existential problems, and we can use them to revolutionize how we do business – becoming mission-focused and investing in technology innovation. While this kind of innovation might not be typically associated with government, it does exist, and more is possible. Despite seemingly insurmountable challenges, the opportunity to be truly transformational is within our reach.
For government to begin addressing these existential problems, it must transform the role it plays at every level: federal, state and local. Private-sector organizations can provide a roadmap in this case. Out of necessity, technology companies have tackled the challenge of delivering value with customized user experiences and outcomes. They "start with the customer" and stay agile and adaptable to changing conditions — think Amazon with product recommendations or Netflix with binge-watching preferences. And they're joining forces through unconventional and unexpected partnerships throughout the technology ecosystem to leverage existing resources and bring their customers the best of all worlds.
The question then becomes "how can we scale innovation"? How can the U.S. government conduct business more like Airbnb? The answer sits at the intersection of deep mission knowledge, outcome-focused, data-driven differentiated business models, and a ubiquitous tech stack. By reimagining how things can be done differently and better, government can achieve previously unimagined levels of performance and mission success.
Understanding the government mission
Government has the potential to achieve, or even exceed, this level of problem-solving agility. In fact, it's already on the right path. In its COVID-19 response, some government programs fared better than others, particularly those using agile techniques. These techniques allow problem solvers to maintain a laser-like focus on the mission (in this case, controlling the virus), acting with speed, creating service-oriented platforms and leading from the top.
We also must recognize that government employees are driven to public service by a common purpose: to apply their time, talents and collective brainpower to making our nation stronger. They are embedded within each of the hundreds of discrete agencies and organizations within government, and they are the masters of each unique challenge government faces: from solving hunger and education inequity to staying ahead of cyber threats or improving the public services that enhance our quality of life. These challenges defy one-size-fits-all solutions, and to successfully address them, we must leverage government employees' mission intimacy so we can deeply understand both the goals of individual organizations and challenges that need to be addressed.
Mastering the tech stack
Traditionally, elements of the tech stack — the tools, technologies and communications infrastructure to build a solution — have been expensive and time-consuming to procure and integrate. But the digital revolution has transformed the way we think about these technologies. Cloud computing puts data storage and analytics at our fingertips. 5G will accelerate connectivity. Artificial intelligence makes previously unimagined knowledge with the computing power and agility available to us. What's more, the pay-as-you-go and pay-for-what-you-use delivery model of this new tech stack makes it vastly more economical — and faster — to put new innovations to work in an organization, as was the case with Recreation.gov, the one-stop information and planning resource used by more than 3,600 federal parks, forests, lakes and cultural destinations across the U.S.
Grounded in extensive consumer and behavioral research, a team of software engineers, cloud architects, customer experience specialists and other experts built a modern, scalable, cloud-native platform from scratch in only 15 months. A unique contractual agreement based on a transaction-based fee model shared between public and private partners accelerated contracting. Meanwhile, DevSecOps practices and a microservice model enabled rapid response to user feedback and changing market conditions — which proved essential in 2020.
As soon as parks and recreation sites began to reopen in the U.S. in late May, the system had to accommodate a surge in capacity. In just the three months from June through August, Americans craving an outdoor escape downloaded the Recreation.gov app half a million times — more than two times the number of downloads during all of 2019. Amid concerns about social distancing and safety, the Recreation.gov team prioritized communication of updates about park and recreation access — across all channels, quickly and easily. For example, a timed entry system for Rocky Mountain National Park, which had 4.5 million visitors in 2019, gave visitors the ability to choose a time slot for entering the park, reducing crowding at the entrance.
Emerging and established technologies like these hold great potential for addressing our nation's evolving challenges. The trick is in helping government agencies integrate them, swiftly and effectively, into their operations. Recreation.gov's open architecture and agile development put them in control and able to respond at the pace of change.
Leveraging differentiated business models
To harness new technologies for maximum mission effectiveness, government must change its approach to using them, fundamentally shifting how it does business. For the past 50 years, agencies have developed services from the top down and usually only considered user data after the fact, if at all. Updating features or the user experience can feel like it takes an act of Congress; too often those in charge of changes have too little control of making them happen. And departmental silos, legacy systems that don't scale and security concerns often hinder collaboration or the integration of innovations from the private sector.
This is a big problem, as demand for government services reaches critical levels and the digital world requires emerging technologies and data-driven holistic outcomes. To master this transition from old to new, government organizations must explore private industry business models and best practices and tailor these approaches to their unique missions, challenges and needs.
The Department of Veterans Affairs made this leap with its Veterans' Experience Office (VEO), by putting veteran needs at the heart of their modernization and transformation efforts.
Since 2017, the VA has collected more than 4.5 million customer surveys, which has allowed it to immediately resolve issues while learning more about what veterans, their families, caregivers and survivors want. While sending out customer experience surveys isn't unusual, the VEO's approach has been.
The VEO's Veterans Signals (VSignals) program allows veterans to directly provide recommendations on how they'd like to see the VA change — digitally collecting feedback following an appointment. Through this platform and in near-real-time, the VEO can identify emerging issues, topics with the greatest impact on veteran trust and challenges and successes at specific VA medical facilities.
The shift to an outcomes-focused model is working, and it's nearly doubled reported satisfaction, with 89% of veterans nationwide now saying they trust VA for their health care needs.
Today's tech stack enables institutions to be better connected to their customers, allowing their products and solutions to dynamically evolve to meet customized challenges and customer feedback. Government has the opportunity to reimagine itself by leveraging this kind of agility and proactively partnering with mission experts and innovators to move faster, do more with less and ultimately have a positive impact on its constituents. But this is just the beginning of our journey. With this approach applied at scale, we have the power to strengthen security, sharpen global competitiveness, more effectively serve citizens and tackle enduring systemic problems from poverty to public health with 21st century solutions.
Now the question is: Are we going to take advantage of this pivotal moment to realize our full potential? We have the technology and capabilities in our hands, right now, to fundamentally transform the way government does business.