Pelosi continues to resist calls for remote voting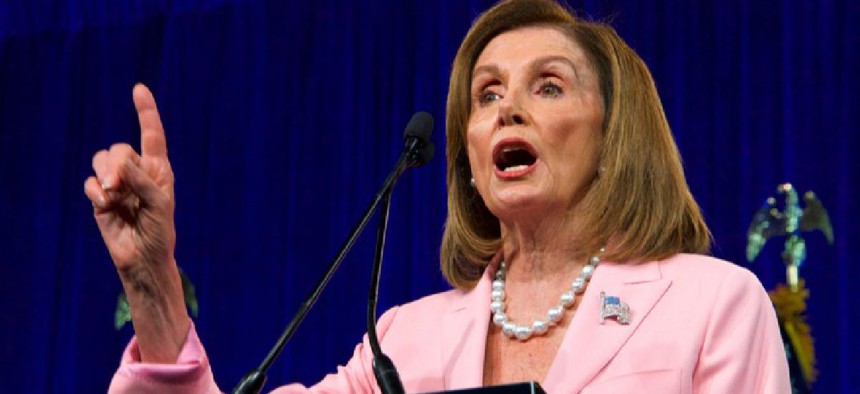 While the Speaker of the House said there are constitutional and security concerns with letting members vote virtually, she has moved to loosen other rules around in-person legislating.
Speaker of the House, Nancy Pelosi, speaking at the Democratic National Convention Summer Meeting in San Francisco (Photo credit: Sheila Fitzgerald / Shutterstock.com)
Speaker of the House Nancy Pelosi (D-Calif.) continued to express skepticism about the prospects of remote voting for members, saying there are significant technological, security and constitutional considerations that have yet to be worked out.
In an April 9 press conference, Pelosi said allowing members to vote from outside the Capitol is risky.
"As we all become more savvy in terms of technology, one would say we could transfer that to remote voting, but it's not that easy, and so again this is something that is being pursued, and there are some technologies that you might think would be workable but they might not be secure," she said.
A Rules Committee report issued in March echoed Pelosi's concerns.
With many lawmakers back home in states that have self-isolating guidance or shelter-in-place orders, members are expressing doubt about whether they can get back to Washington, D.C., by their scheduled April 20 return date.
The House and the Senate are expected to pursue a fourth phase of relief and recovery legislation in response to the coronavirus pandemic.
Pelosi and Senate Majority Leader Mitch McConnell (R-Ky.) have both rejected the idea in recent weeks. The Senate, with just 100 members, may have an easier time conducting business in its official chamber while keeping with social distancing practices advised by the Centers for Disease Control and Prevention to curtail the spread of COVID-19.
The House, with 435 members and quorum rules requiring the presence of 218 members to conduct certain kinds of business, presents more complicated logistics. When the Coronavirus Aid, Relief, and Economic Security (CARES) Act passed on March 27, members were arrayed in the public galleries in order to maintain social distancing.
Walter Dellinger, a Duke University law professor and former solicitor general, called the idea that members of Congress can't assemble virtually in response to exigent circumstances "absurd" and argued the Constitution would not prevent congressional leaders from changing the rules.
"While there is no provision in the Constitution that says you can do this, there's no provision that says you cannot," Daniel Schuman, a policy director at Demand Progress who has been pushing Congress to adopt remote voting, told FCW in response to Pelosi's comments.
Requiring members to continue voting in person could end up delaying or preventing the passage of new relief legislation, because of parliamentary rules that allow a single member to request a recorded vote -- requiring a quorum. Rep. Thomas Massie (R-Ky.) forced the presence of a quorum in advance of the CARES Act vote and said he intends to do so again.
Pelosi has taken steps to loosen House rules to reduce the need for physical attendance by members and staff. Earlier this week she informed colleagues that they can now electronically submit floor documents -- including bills, resolutions, intents to co-sponsor legislation and extensions of remarks -- through a new secure, dedicated email system. The changes are valid through April 19 but could be extended further if members aren't able to return.
"We don't want anybody coming back at any time that might not be healthy for them," Pelosi said, "but we are right now concerned about the health of the American people, the health of the people who are going to work every day to administer to the needs of those who are sick, those who are supplying the food, the first responders, firefighters, all of those who are taking risks."