Shanahan Out; Army Secretary Esper to Be Acting Defense Secretary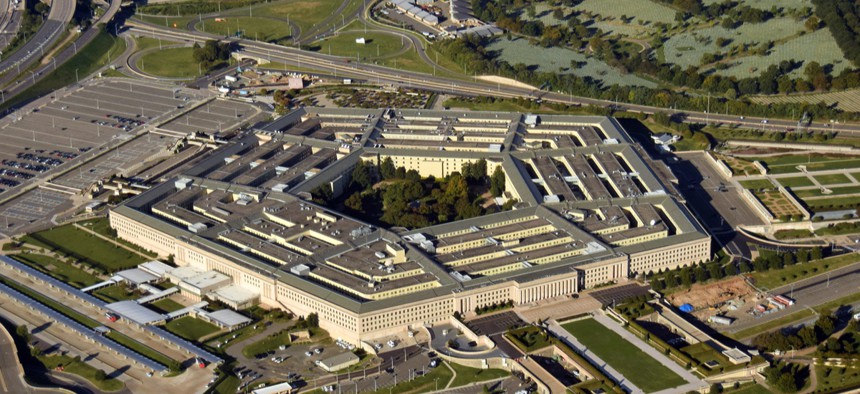 President Trump tweeted the news after reports that the FBI was looking into a violent domestic dispute from nine years ago.
In a shock announcement on Tuesday, President Trump tweeted that he has named Army Secretary Mark Esper to be his new acting defense secretary, and that the current acting secretary, Patrick Shanahan, "has decided not to go forward with his confirmation process" to hold the role permanently amid explosive revelations about his turbulent 2015 divorce.
Shanahan, "who has done a wonderful job, has decided not to go forward with his confirmation process so that he can devote more time to his family," Trump tweeted. "I thank Pat for his outstanding service and will be naming Secretary of the Army, Mark Esper, to be the new Acting Secretary of Defense. I know Mark, and have no doubt he will do a fantastic job!"
The sudden move comes after months of speculation surrounding Shanahan's nomination. The White House announced in May that Trump intended to nominate him to hold the position left vacant after Jim Mattis's protest resignation and subsequent firing in December.
But the White House never sent the formal paperwork necessary to kickstart Shanahan's confirmation to the Senate, and rumors have circulated Washington that Trump was getting cold feet — or that there was something holding up Shanahan's background check.
It was not immediately clear when Shanahan would hand over the reins to Esper.  On Tuesday afternoon, Esper was returning from a senior Army leader meeting in Maryland to meet with Shanahan at the Pentagon later in the day, a defense official told Defense One.
In interviews with The Washington Post on Monday and Tuesday, Shanahan publicly detailed the circumstances of his divorce, which court documents and Shanahan's testimony reveal numerous alleged incidents of domestic violence. Shanahan's wife was arrested after hitting him in the face in 2010, court documents show, and his then-teenage son brutally beat his mother with a baseball bat in 2011, according to the Post.
"It is unfortunate that a painful and deeply personal family situation from long ago is being dredged up and painted in an incomplete and therefore misleading way in the course of this process," Shanahan said in a statement. "I believe my continuing in the confirmation process would force my three children to relive a traumatic chapter in our family's life and reopen wounds we have worked years to heal.
"I would welcome the opportunity to be Secretary of Defense, but not at the expense of being a good father."
The Pentagon has fielded rumors about the former Boeing executive's divorce for months. Media accounts of one of the incidents described in public divorce records began to trickle out in reports earlier this week. In her own filings, Shanahan's former wife alleges one instance of physical abuse. Shanahan denies striking his then-wife, and according to court records, she was arrested after hitting him in the face that night. She also claimed he once shoved her against a wall and threatened to hit her, and alleges he was a heavy drinker. Shanahan denies both charges in court documents responding to her claims.
As recently as last week, defense officials were attempting to tamp down rumors that there was anything unusual about the delay in Shanahan's official nomination, pointing to the more onerous background check process that the White House requires for cabinet-level officials compared to other Senate-confirmed positions.
Shanahan said in a statement that he would also resign his post as deputy defense secretary, for which he was confirmed in 2017. "I will coordinate an appropriate transition plan to ensure that the men and women in harm's way receive all the support they need to continue protecting our great nation," he said.
Taking his place as acting Defense Secretary will be Mark Esper, who has served as Army Secretary since November 2017. He came to the Trump administration off a seven-year stint as Raytheon's top lobbyist.
A 1986 graduate of West Point, Esper subsequently completed the Army's elite Ranger and Pathfinder schools. During the 1990-91 Gulf War, he served with the 101st Airborne Division, earning the Bronze Star and the Combat Infantryman's Badge. After leaving active service, he served as chief of staff at the conservative Heritage Foundation, then moved through various staff positions with members and committees on Capitol Hill. In the George W. Bush administration, he was appointed Deputy Assistant Secretary of Defense for Negotiations Policy, then returned to the Hill to serve as the Senate's director for National Security Affairs.
The surprise announcement further extends the unprecedented length of time — 168 days and counting — that the Pentagon has now gone without a confirmed leader. Trump has said that he prefers officials in an "acting" capacity, and Pentagon lawyers believed that there was no legal limit on how long Shanahan could serve as "acting" defense secretary — because he had been confirmed as deputy secretary. For Esper, the rules appear to be the same. According to DOD regulations, he was next in the line of succession, after the deputy, Shanahan, to hold the top post as "acting secretary."
Lawmakers on Capitol Hill, including Senate Armed Services Committee chair Jim Inhofe, R-Okla., had begun to agitate for Trump to make his nomination official. The uncertain leadership landscape at the Pentagon comes at the United States is involved in a protracted period of heightened tensions with Iran and China. Shanahan was dispatched to deliver a high-profile keynote address in Singapore three weeks ago aimed at China's leadership at the Shangri-La Dialogue, an annual conference of Asia-Pacific defense ministers. The appearance was seen as perhaps Shanahan's most secretary-like public moment: he met with a Chinese counterpart, showed he could handle a heavy policy moment, and fielded questions. The Pentagon announced Monday that Shanahan "authorized" an additional 1,000 troops in response to what senior administration officials have described as a heightened threat from Tehran.  
"However well-qualified Secretary Esper may be, it is critical that the President nominate, and that the Senate confirm, a permanent Secretary of Defense as quickly as possible," the top Republican on the House Armed Services Committee, Rep. Mac Thornberry, Texas, said ina statement. "This job should be filled in a matter of a few weeks, not months. The uncertainty surrounding this vacant office encourages our enemies and unsettles our allies."
Shanahan's departure means that four of Defense Department's top five civilians are serving in an acting capacity: SecDef, DepSecDef, Army Secretary, and Air Force Secretary, notes Military Times' Leo Shane.
It also means that more than half of the people who have been members of Trump's Cabinet — 23 of 43 — are doing so, or did so, in an acting capacity, NextGov's Frank Konkel notes, citing an AP report that says the historical average for administrations dating back to President Carter is about 30 percent.
Kevin Baron and Bradley Peniston contributed to this report.