Trump on a Feb. 15 Shutdown: 'We've Set the Stage for What Is Going to Happen'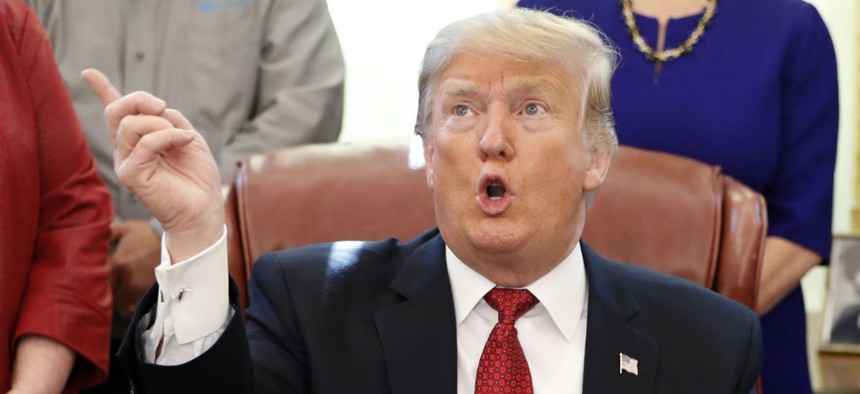 Less than a week after President Trump ended the longest-ever government shutdown, he suggested he is willing to force another partial government shutdown on Feb. 15 if lawmakers don't provide funding for a wall along the Southwest border. Or perhaps he will declare a national emergency. What he's not willing to do is forgo building a wall. Feb. 15 is when temporary funding expires for those agencies still reeling from the 35-day shutdown that ended Jan. 25, when lawmakers and the White House granted themselves three weeks to work out a border security funding deal.
"I think that by having the shutdown we have set the table. We've set the stage for what is going to happen Feb. 15," he said. "Without a wall it just doesn't work."
Trump made the remarks during a meeting at the White House with American manufacturers. Earlier Thursday, House Speaker Nancy Pelosi said she would bring a funding bill to the floor with bipartisan support, but noted, "There's not going to be any wall money in the legislation."
Asked by a reporter if he was willing to risk the economic damage caused by another shutdown and what his message was to federal employees, Trump said: 
"As far as the people are concerned, many of those people wanted me to stay out, but I didn't want to do it because people were getting hurt. What I think is the worst sin of all is the fact that we're allowing people to come into this country and sell drugs and human traffic and do all of these horrible things, that if we had the simplicity of a well-constructed, beautiful barrier or wall, they wouldn't be able to come into our country. That to me is the great sin. And everybody knows it."

"I was elected, partially on this issue," he said. "If we don't put up a barrier or wall, a strong one, but one that looks good, if we don't put up a physical barrier, you can forget it."