Trump signs spending bill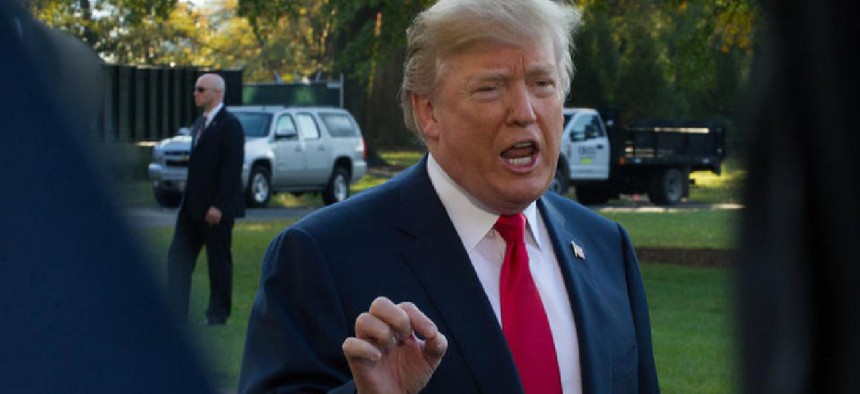 After publicly toying with the idea of a veto, President Donald Trump signed the just-passed $1.3 trillion 2018 spending bill into law.
At a White House event March 23, Trump called on Congress to give him sweeping new powers to avert the next last-minute dash to secure government funding in advance of a potential shutdown. Trump complained about the $1.3 trillion cost of the omnibus bill and the last-minute race to get the 2,200-page bill passed before members could fully read it.
"I say to Congress -- I will never sign another bill like this again," Trump said. "Nobody read it. It's only hours old."
He called on the Senate to end the filibuster rule, under which 60 votes are required in a procedural vote in advance of a majority vote on bill.
Without the filibuster, Trump said, bills will pass, "just like magic."
Trump also sought line-item veto authority for spending bills. Other presidents including Reagan and Clinton have sought this authority, but the Supreme Court has ruled it unconstitutional.
Trump touted a list of large defense projects that have gained from the bill. But he also noted that "there are a lot of things I'm unhappy about" in the omnibus.
In brief remarks to reporters as he was exiting the event, Trump said he "was thinking about doing the veto," but the uptick in funding in military spending in the omnibus convinced him to sign the bill.
Congress thought it had averted a March 23 government shutdown with the rushed passage of a $1.3 trillion, 2,200+ page spending bill.
Trump put a shutdown back on the menu with a Friday-morning tweet threatening a veto.
"I am considering a VETO of the Omnibus Spending Bill based on the fact that the 800,000 plus DACA recipients have been totally abandoned by the Democrats (not even mentioned in Bill) and the BORDER WALL, which is desperately needed for our National Defense, is not fully funded," Trump tweeted.
The Senate voted in the early morning on March 23 to pass the bill by a vote of 65-32. The House voted to pass the bill the day before. Both chambers of Congress are now on a two-week Easter break, and legislators have scattered back to their districts and states.
Sen. Patrick Leahy (D-Vt.), vice chair of the Appropriations Committee, replied in an email blast to reporters, saying that the responsibility of the legal status of the participants in the Deferred Action for Childhood Arrivals program lay with Trump, who cancelled the program.
"Now the President threatens to abandon $700 billion for the troops, and health care for 7 million veterans, for his misbegotten border wall that he said Mexico would pay for. That is NOT Making America Great Again," Leahy said.