Airlines Are Price Gouging in the Path of Hurricane Irma—And Algorithms Are to Blame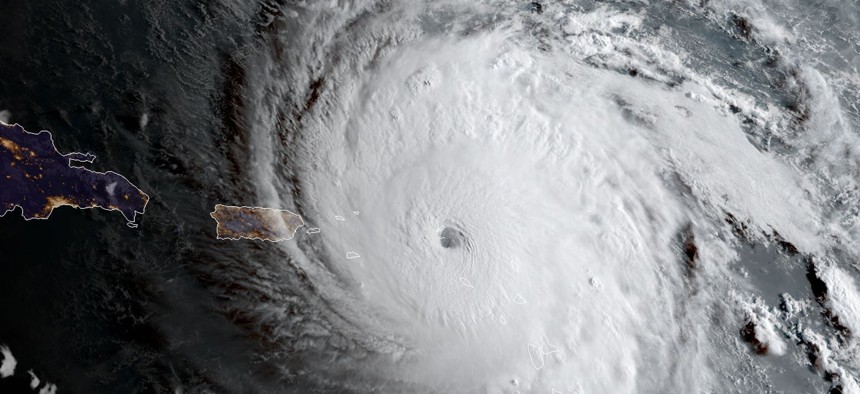 Travelers trying to evacuate in anticipation of Hurricane Irma, the strongest hurricane ever recorded in the Atlantic Ocean, are complaining of unusually high airline ticket prices in cities along the storm's trajectory.
Shame on you @delta. Jacking from $547 to over $3200 for people trying to evacute responsibly? #IrmaHurricane pic.twitter.com/O2nfPHQUAh

— Leigh (@LeighDow) September 5, 2017
(The Delta flight referenced in the Tweet above is no longer available to be booked.)
Irma is expected to hit Puerto Rico today (Sept. 6) as a category 5 storm. Forecasters predict the hurricane, which currently has wind speeds higher than 180 mph, will reach the coast of Florida by the weekend. The state has ordered a mandatory visitor evacuation of Monroe County, which includes the islands of the Florida Keys.
"We value our visitors and want them to be safe," Monroe County administrator Roman Gastesi told reporters. "This is the reason why we need them to calmly leave the Keys with plenty of advance notice before the storm may reach our shores." Residents are not yet required to evacuate.
While the airfares may be eye-popping, they aren't out of the ordinary. Fares usually fluctuate in the weeks before a flight, then rise sharply in the days and hours before departure. Data from Hopper, a flight search engine, show that the cheapest one-way fares out of Miami, Orlando, and Fort Lauderdale are showing typical price movements.
"We have not changed our fare structures, and, in fact have added capacity to help get customers out of the affected areas," an American Airlines spokeswoman said in a statement to Yahoo Finance. "We have added several extra flights—from St. Maarten (SXM), St. Kitts (SKB), Providenciales, Turks and Caicos (PLS); and San Juan, Puerto Rico (SJU)—in addition to upgrading aircraft when possible."
Delta also said it would be adding extra flights to account for increased demand as a result of the storm. (At least one US airline, JetBlue, decided to cap charges at $99 in every city in Florida where the airline operates, though flights were quickly sold out).
.@JetBlue capped airfares at $99 out of Florida. Unfortunately, it is pretty much out of flights from FLL today and tomorrow

— John Roberts (@johnrobertsFox) September 6, 2017
Despite these efforts, the airlines' standard pricing models are creating a public relations nightmare ahead of Irma's Florida landfall. The systems that automatically adjust fares based on supply, demand, and competitor pricing in real time also assume a certain number of no-shows, and thus are allowed to sell more seats than exist on flights. When airline pricing systems recognize that a flight will be overbooked, it can send ticket prices to astronomical levels to cover the anticipated costs and penalties of bumping other ticket holders.
The airlines also need to accommodate passengers who already have tickets and are trying to change flights to ahead of Irma's landfall, further reducing supply.
It's a similar conundrum to Uber's surge pricing fiascos: With limited supply and a computer in control of pricing, the algorithm didn't have any context for adding compassion, charity, or fairness into the model.
These fares may have consumers praying for divine intervention, though even the Pope had to make alternate travel plans.