A Running List of Websites and Apps That Have Dropped White Supremacists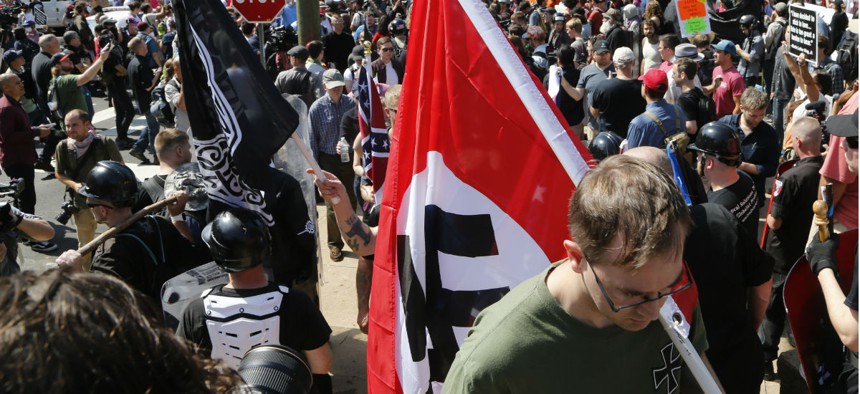 Last weekend's "Unite the Right" rally in Charlottesville, Virginia, ostensibly a protest against the removal of a Confederate monument, drew hate groups that included neo-Nazis, Ku Klux Klan members, white supremacists, and gun-wielding militias. The rally turned violent shortly after it began on the evening of August 11, when counter-protestors and rally attendees clashed with one another. The violence continued throughout the weekend, leaving one woman dead after a man drove his car at full speed into a large group of counter-protestors.
U.S. President Donald Trump said in a press conference on Tuesday that his administration condemns "in the strongest possible terms this egregious display of hatred, bigotry and violence," but also said that "not all of [the rally attendees] were neo-Nazis, believe me," and reiterated his previous statement that "there is blame on both sides."
And although the president is attempting to remain somewhat neutral in the space between those two sides, many American tech companies are not. Here, we've compiled a list of websites, apps, and services that have banned, blocked, deleted, and otherwise dropped neo-Nazis and white supremacists from their respective platforms. For many of these companies, which have long insisted on providing their services indiscriminately, the choice to intervene represents a significant philosophical shift in policy. We will continue to update this list as the story develops further.
Airbnb banned users it believed to be neo-Nazis from booking in Charlottesville
Before the rally even began, Airbnb was banning users from its platform who were trying to book accommodations in Charlottesville, if the company believed the users were associated with hate groups. Gizmodo first reported the bans, and obtained the following statement from Airbnb:
In 2016 we established the Airbnb Community Commitment reflecting our belief that to make good on our mission of belonging, those who are members of the Airbnb community accept people regardless of their race, religion, national origin, ethnicity, disability, sex, gender identity, sexual orientation, or age. We asked all members of the Airbnb to affirmatively sign on to this commitment. When through our background check processes or from input of our community we identify and determine that there are those who would be pursuing behavior on the platform that would be antithetical to the Airbnb Community Commitment, we seek to take appropriate action including, as in this case, removing them from the platform.
Google and GoDaddy dropped domain registration for dailystormer.com
After 32-year-old Heather Heyer was killed while protesting against the rally, the neo-Nazi website The Daily Stormer published a hate-filled article about her. The ensuing uproar led to calls for The Daily Stormer's domain registrar, GoDaddy, to take the website down.
Although GoDaddy had previously defended its choice to provide domain services to the site, citing its rights under the First Amendment, the company took a different stance this time around. Within a few hours of the article's publication, GoDaddy dropped The Daily Stormer, saying it violated the registrar's terms of service. The website then registered its domain with Google, which promptly dropped it as well. These decisions, in combination with the article, set off a wave of other companies following suit.
Discord shut down a white supremacy group's chat server
Shortly after Google and GoDaddy dropped The Daily Stormer, popular chat service Discord announced that it had shut down a server used by another far-right website, altright.com.
In a statement sent to Polygon, Discord CEO Eros Resmini said the server linked to altright.com violated the company's terms of service.
Discord was built to bring people together through a love of gaming and our mission is to connect positive communities who share this appreciation. We unequivocally condemn white supremacy, neonazism, or any other group, term, ideology that is based on these beliefs. They are not welcome on Discord. While we don't read people's private servers our Terms of Service explicitly forbid harassment, threatening messages, or calls to violence. When hatred like this violates our community standards we act swiftly to take servers down and ban individual users. The public server linked to AltRight.com that violated those terms was shut down along with several other public groups and accounts fostering bad actors on Discord. We will continue to be aggressive to ensure that Discord exists for the community we set out to support – gamers.
Uber banned white supremacists after a driver kicked them out of her car
After white supremacist James Allsup was kicked out of his Uber for allegedly making racist comments to his driver, the company permanently banned Allsup from using its app. Allsup tweeted a video of part of the incident on August 11, saying he had been sleeping before he was asked to get out of the car:
After reviewing the situation and speaking with the driver, the company informed Allsup that he was banned:
The company confirmed its decision in a statement to BuzzFeed News:
We've reached out to the driver to make sure she's okay, and express our support for her and how she handled this situation. The rider has been permanently removed from our platform.
GoFundMe took down campaigns to raise money for alleged murderer
After James Fields was arrested and accused of driving his car into a group of counter-protestors at the rally, killing Heyer, crowdfunding campaigns were launched on GoFundMe to help Fields with his legal costs. A spokesperson for GoFundMe told Reuters that the site had already removed multiple campaigns for Fields, and would continue to do so.
"Those campaigns did not raise any money and they were immediately removed," said the spokesperson.
GoFundMe, like other mainstream crowdfunding websites, prohibits hate speech in its terms of service agreement:
You agree to not use the Services to … establish or contribute to any Campaign with the implicit or express purpose relating to … the promotion of hate, violence, harassment, discrimination, terrorism, or intolerance of any kind relating to race, ethnicity, national origin, religious affiliation, sexual orientation, sex, gender or gender identity, or serious disabilities or diseases.
Facebook is deleting links to hate-filled articles
The Daily Stormer's hate-filled article on Heyer, the woman killed at the rally, went viral on Facebook after it was published, with more than 65,000 shares. Following the announcements from Google and GoDaddy, The Verge reported that Facebook was deleting links to the article across its platform.
On Wednesday, Facebook CEO Mark Zuckerberg posted about the company's policy to take down "any post that promotes or celebrates hate crimes or acts of terrorism–including what happened in Charlottesville."
Over the weekend, Facebook also removed the event page for the "Unite the Right" rally, and it was not the first extremist page the company has taken down. The following list of accounts and pages on both Facebook and Instagram have recently been removed, according to information obtained by Quartz:
Right Winged Knight
Right Wing Death Squad
Awakening Red Pill
Physical Removal
Genuine Donald Trump
Awakened Masses
White Nationalists United
Vanguard America
Radical Agenda: Common Sense Extremism
Chris Cantwell's personal Facebook page and Instagram profile
WordPress shut down a white supremacist blog
The Anti-Defamation League says Vanguard America is a "white supremacist group that opposes multiculturalism and believes that America is an exclusively white nation." On Tuesday, Fast Company reported that the organization's WordPress website, reactionamericacom.wordpress.com, had been taken down. A message on the site now reads: "This blog has been archived or suspended in accordance with our Terms of Service."
As noted above, Facebook had already removed Vanguard America's page on the social media website prior to the apparent move by WordPress.
WordPress has traditionally taken a neutral stance on content, and when previously asked specifically about Vanguard America, said it would not interfere with the group's website, Fast Company reported. WordPress has not made a public statement about taking down the site; we have reached out for comment.
Spotify removed "hate music" from its streaming service
Digital Music News published a blog post on Monday entitled "I Just Found 37 White Supremacist Hate Bands on Spotify," and on Wednesday Billboard reported that Spotify had removed music from its streaming service that was made by "hate bands," as classified by the Southern Poverty Law Center. In a statement to Billboard, Spotify said the onus for keeping hate speech off of its service is primarily on record companies, but that the company will step in when it feels it has to.
Illegal content or material that favors hatred or incites violence against race, religion, sexuality or the like is not tolerated by us. … Spotify takes immediate action to remove any such material as soon as it has been brought to our attention. We are glad to have been alerted to this content – and have already removed many of the bands identified today, whilst urgently reviewing the remainder
Squarespace removed white supremacist websites
On Wednesday, Squarespace became the latest hosting platform to remove white supremacist websites in a reversal from its previous policy of non-intervention. The company removed a website run by white supremacist leader Richard Spencer, as well as other far-right websites.
"In light of recent events, we have made the decision to remove a group of sites from our platform. We have given the site owners 48 hours' notice," the company said in an email. "We cannot provide further information at this time but we'll be in touch as soon as we have an update."
The move came after a petition for Squarespace to remove the sites gained more than 40,000 signatures on Change.org. The petition lists a number of far-right and extremist websites:
Squarespace, a popular web hosting service for businesses and creative professionals, is hosting white supremacist/neo-nazi groups: Identity Evropa, Radix Journal, and Richard Spencer's National Policy Institute. These groups helped to organize the deadly nazi rallies in Charlottesville, Virginia on August 11th-12th. Squarespace has been informed of this repeatedly by email, but has refused to take the websites down.
Cloudflare dropped The Daily Stormer in a stark reversal
On Tuesday, we reported that the cloud protection and performance service Cloudflare was the one big tech company still doing business with neo-Nazi websites like The Daily Stormer. In a statement Cloudflare sent to Quartz and others earlier this week, the company refused to explicitly say it will continue to do business with sites like The Daily Stormer, but pointed out that the content would exist regardless of what Cloudflare does or doesn't do.:
Cloudflare is aware of the concerns that have been raised over some sites that have used our network. We find the content on some of these sites repugnant. While our policy is to not comment on any user specifically, we are cooperating with law enforcement in any investigation.

Cloudflare is not the host of any website. Cloudflare is a network that provides performance and security services to more than 10% of all Internet requests. Cloudflare terminating any user would not remove their content from the Internet, it would simply make a site slower and more vulnerable to attack.
In a blog post in 2013, Cloudflare CEO Matthew Prince expressed his opposition to the idea of denying service to certain websites based on their content:
A website is speech. It is not a bomb. There is no imminent danger it creates and no provider has an affirmative obligation to monitor and make determinations about the theoretically harmful nature of speech a site may contain.
In a stark reversal on Wednesday, however, Prince decided to drop The Daily Stormer. After the editor of the neo-Nazi website had posted on social media that Cloudflare had in fact suspended its services, Prince published a blog post confirming it:
Earlier today, Cloudflare terminated the account of the Daily Stormer. We've stopped proxying their traffic and stopped answering DNS requests for their sites. We've taken measures to ensure that they cannot sign up for Cloudflare's services ever again.

Our terms of service reserve the right for us to terminate users of our network at our sole discretion. The tipping point for us making this decision was that the team behind Daily Stormer made the claim that we were secretly supporters of their ideology.

Our team has been thorough and have had thoughtful discussions for years about what the right policy was on censoring. Like a lot of people, we've felt angry at these hateful people for a long time but we have followed the law and remained content neutral as a network. We could not remain neutral after these claims of secret support by Cloudflare.
Apple Pay and PayPal banned some websites selling white supremacy merchandise
On Wednesday evening, BuzzFeed News reported that both Apple and PayPal had banned several websites from using their payment services. Apple Pay was disabled on supremacist websites that sell "sweaters with Nazi logos, T-shirts emblazoned with the phrase 'White Pride,' and a bumper sticker showing a car plowing into stick figure demonstrators," BuzzFeed reported. PayPal disabled its service on the supremacist websites Vinland Clothing and Behold Barbarity.
In a blog post on Tuesday evening, PayPal addressed the issue:
Regardless of the individual or organization in question, we work to ensure that our services are not used to accept payments or donations for activities that promote hate, violence or racial intolerance. This includes organizations that advocate racist views, such as the KKK, white supremacist groups or Nazi groups. If we become aware of a website or organization using our services that may violate our policies, our highly trained team of experts addresses each case individually and carefully evaluates the website itself, any associated organizations, and their adherence to our policy. Ultimately, this team of professionals makes a recommendation that leads to the final determination on our ability to maintain our relationship with the website's owner.
We have reached out to Apple for more information about the websites it has banned from using its payment services.