Government Emails Show USCIS Was Caught Off Guard and Unprepared by the Muslim Ban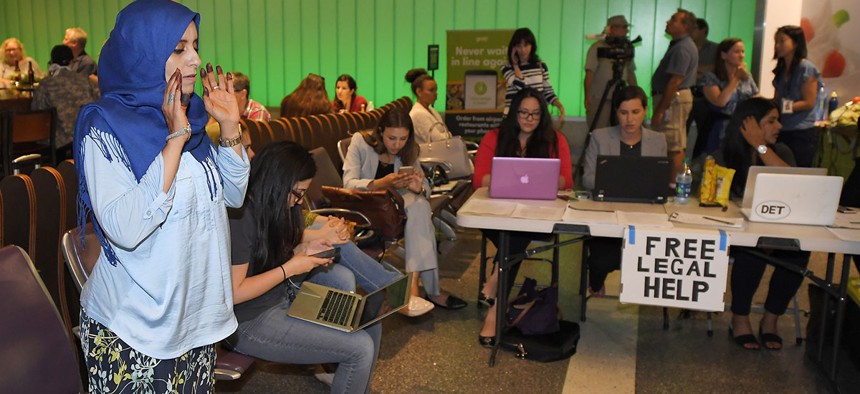 Just a week into president Donald Trump's term he tried to make good on one of his signature campaign promises: banning Muslims from entering the US. After Trump signed an executive order banning US travel from a number of Muslim-majority countries, chaos at the borders followed, with people being turned away, held in detention, or not even allowed to board flights home.
While airport immigration checkpoints were probably the most visible area of disarray left in the wake of the executive order, newly released emails show that the back offices processing visa extensions and work authorization for people from the affected countries were caught unprepared to implement the new policies. The emails, released to Quartz through a public records request, show staffers at the US Citizenship and Immigration Services (USCIS) feeling their way through implementing the wide-ranging order with little guidance from its authors in the White House.
The ban was signed on January 27, a Friday. But just hours before the ban was signed Andrew J. Davidson, a senior member of the Fraud Detection and National Security Directorate at USCIS, wrote to a small number of his colleagues that "we need immediate clarification in Section 3(c)." Davidson was referencing the part of the order that barred people from Iraq, Syria, Sudan, Iran, Somalia, Libya, and Yemen from entry into the US. USCIS processes applications from people already living in the US as well as those outside of it seeking to come.
Hours after the order was signed, there was still discussion over what steps needed to be taken by officials to comply. "For clarity, what would be suspended are I-485s, l-539s, I-129s and I-131s. If I'm missing something please let me know." wrote Donald W. Neufeld, who oversees all of the facilities that process application forms for USCIS. Neufeld was referring to the forms used to do everything from the common task of applying for a green card to the more bespoke requesting of a reentry permit.
Saturday morning the edict went out. "Effectively immediately and until additional guidance is received, you may not take final action on any petition or application where the applicant is a citizen or national of Syria, Iraq, Iran, Somalia, Yemen, Sudan, and Libya," wrote Daniel M. Renaud, associate director of USCIS field operations, to dozens of USCIS staff and listservs. That email was reported contemporaneously by The Intercept, which first reported the administrative disarray at USCIS. The Intercept spoke to a senior US immigration official who said the Trump administration's actions were bringing staffers to tears.
At the time, Quartz heard from lawyers and immigrants describing the same disarray these emails now reveal. The application process for citizenship had ground to a halt for people from the countries covered by the ban. For immigrants already in the US who had spent years preparing and waiting, their interviews and background checks suddenly seemed to carry no weight. Applicants just formalities away from citizenship—people who did everything right, living in the US to a higher moral and legal standard than many citizens—were stopped at the door, told their oath ceremony was canceled.
By Saturday night there was even more uncertainty. "I've only seen this on Twitter, but it looks like a judge in EDNY"—the US district court for the Eastern District of New York—"has granted a nationwide stay of the refugee EO. I haven't been able to nail down a copy of the actual order, so I have no actual details. Anyone else hear anything?" wrote Larry Levine, who was then the temporary head of USCIS's policy and strategy office. He followed up 12 minutes later to cite a Reuters story reporting the stay applied to holders of valid visas, too.
Sunday afternoon, it was all over. Renaud wrote: "Field Offices may continue to adjudicate N-400 and N-600 applications and administer the oath of citizenship for approved candidates who remains eligible. This message lifts the hold on citizenship applications and petitions." Renaud was citing the forms used to apply for naturalization and to apply for a citizenship certificate.
"I can assure you" Daniel Cosgrove, a USCIS spokesman at the time, wrote Quartz four days later, "USCIS continues to adjudicate N-400 applications for naturalization and administer the oath of citizenship consistent with prior practices."
We have separately published the full release of emails as a webpage. Alternatively, the original pdf formatted release can be dowloaded here.