Space: Trump's Least Controversial Frontier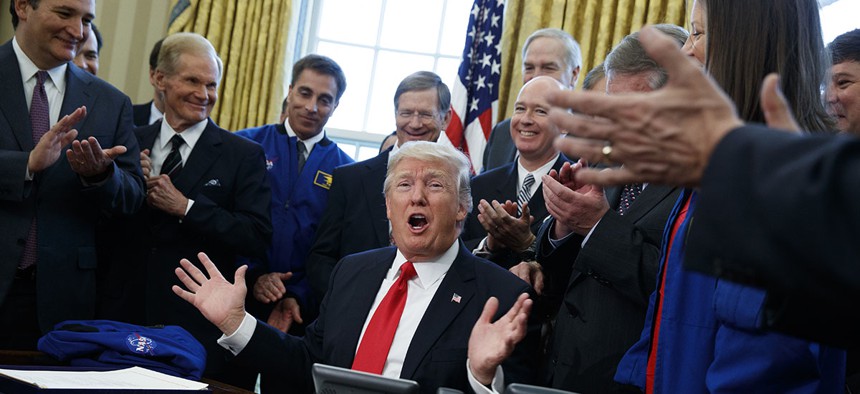 Unlike in other policy areas, the president can pay significant attention to the U.S. space program with little risk of backlash.
The first 100 days of Donald Trump's presidency have been no less rife with controversy and political infighting than his campaign. As the new administration settled into the White House, it unleashed a torrent of new policy plans and executive orders for the public to debate, producing a flood of stories competing for the public's attention.
But one area in particular seems to have flown under the radar, prompting no outrage and little parsing from Trump's critics: the nation's space policy.
This kind of policy is, of course, typically quite low on the priority list for a new president, especially when there are jobs to create, Cabinet positions to fill, health-care laws to repeal, tax codes to reform, allegations of Russian ties to avoid and potholes to fix. Domestic and foreign affairs naturally get more attention than rocket launches, robotic missions to planets, and astronomical research, and Trump has yet to formally lay out his plan for the nation's space goals.
But according to several space-policy experts and historians, Trump has publicly discussed the country's space program and exploration efforts more than other modern presidents have in their first stretches in office.
In the last few weeks, Trump has reminisced about the Apollo era, cheered a future Mars mission, and chatted with astronauts. He devoted a recent Saturday address to space telescopes, praising the achievements of Hubble and getting excited about the James Webb. He signed a NASA bill into law, a tiny legislative win in a long list of mostly unchecked boxes.
On Monday, the beginning of a week that would see headlines about his tax-reform proposal, a trade dispute with Canada, his former adviser Michael Flynn's involvement with Russian and Turkish governments, and a revealing interview in which he admitted he "never realized how big it was" of a job to be president, Trump made time to place a long-distance video call from the Oval Office to the American astronauts on the International Space Station.
Trump has made time for the space program, and, unlike in other policy areas, it hasn't cost him. His remarks receive little attention relative to the rest of the news cycle, getting swept away in the current. Space exploration, it appears, has presented a rarity in the Trump administration so far: It's not controversial.
"It seems to me to indicate that somebody in the Trump inner circle thinks space is a good issue for him," said John Logsdon, a professor emeritus at George Washington University who founded the school's Space Policy Institute in 1987.
Space policy has given Trump an opportunity to deploy his signature sweeping praise with little risk of backlash. Missions take years to develop and execute, usually outlasting presidents and absolving them of any accountability. The space program has historically enjoyed bipartisan support in Washington, so it's usually a safe bet for any politician. There's the usual wrangling between the White House and Congress over NASA's budget, but the experience is usually less painful compared to that of other federal agencies.
To the majority of the public, NASA is not another bureaucratic mess inside the government, but the inspiration machine for future generations. In other words, NASA gets good ratings, and Trump has been publicly effusive about how much good ratings mean to him.
And who would begrudge Trump for wanting to put "American footprints on distant worlds," as he said in his first address to Congress? Few things make a president look more presidential than vowing to brave the next frontier, to "do the other things, not because they are easy, but because they are hard."
It's important to note Trump's enthusiasm for the space program does not extend to other efforts at NASA, like its climate-change research. The president's proposed budget, which included cuts in the funding of science and health agencies across the board, calls for eliminating $102 million from NASA's Earth science division and the cancellation of four Earth-observation missions.
Space-policy experts have been taking much of what Trump has said about the space program with a sizable grain of salt. His administration has yet to name a new head of NASA or provide updates on its promise to revive a National Space Council, a high-level advisory council on space activities last used under the first Bush administration. The administration appears to be putting off any big policy decisions until appointments are made, according to news reports.
But there has been some action.
In February, the White House asked NASA to consider adding a human crew to the inaugural test launch of the Space Launch System, which will occur sometime in early 2019. NASA hadn't planned on including astronauts on the first flight. But there appears to be a motivation inside the White House to speed up certain initiatives.
"The common thread among many of the policy options, transition and industry officials said, is a focus on projects able to attract widespread voter support that realistically can be completed during Mr. Trump's current four-year presidential term," The Wall Street Journal reported.
Such a sense of urgency was on full display during Trump's call with the International Space Station this week.
"What do you see a timing for actually sending humans to Mars? Is there a schedule? And when would you see that happening?" Trump asked Peggy Whitson, the commander of the station.
"Well, I think as your bill directed, it will be approximately in the 2030s," Whitson replied.
"Well, we want to try and do it during my first term or, at worst, during my second term," Trump said. "So we'll have to speed that up a little bit, OK?"
Whitson laughed. "We'll do our best," she said.
"I think we'll do it a lot sooner than we're even thinking," Trump said later in the call.
It wasn't clear whether the president was serious about sending humans to Mars in the next four years, or making a joke that jibes with a campaign promise of rapid change. Either way, it would be impossible. The United States doesn't have any crew launch capabilities of its own, and pays Russia millions of dollars to send its astronauts to space.
And then there's the science. Several stories appeared explaining what kind of engineering feats it would take to transport a crew to Mars that fast, with Sarah Fecht at Popular Science with perhaps the best response: a time machine. Asked to clarify the statement, a White House spokesman offered only that "the president has already taken steps to refocus NASA on its core mission of exploration."
Trump's insistence either showed enthusiasm or a lack of understanding of mission goals, experts said. But it's not the job of a president to know the ins and outs of space exploration, and it's not important if he does, Logsdon said. NASA welcomes the interest, no matter how unrealistic.
"If the president's lips move and he says positive things about the space program, that's good for the space program," Logsdon said. "I'm not sure Ronald Reagan knew a lot about the space program, but he said the right words."
The politics are good, even if the physics aren't.