The Invisible Fence That Keeps Drones Away From the President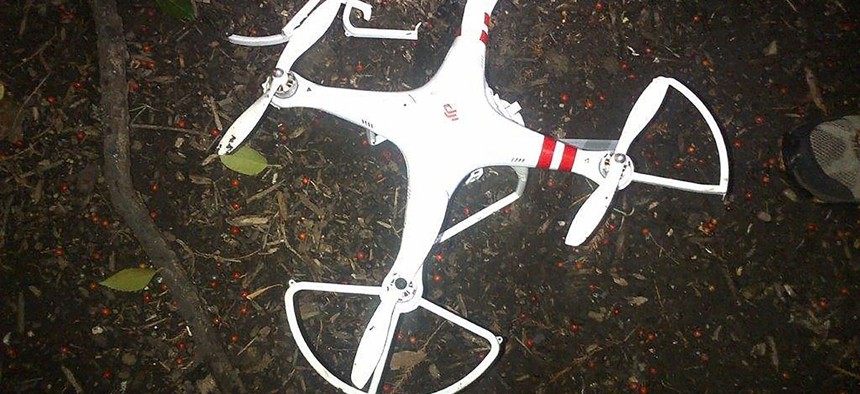 Some drones are programmed to avoid restricted airspace—but it's not hard to ignore the limits and fly there anyway.
A drone flying through the air in southwest Baltimore might, if it wanders too far in the wrong direction, stop suddenly in midair, as if running into an invisible force field. The obstacle isn't physical—it's been programmed into the software that helps the drone fly. A ring with a 30-nautical mile radius centered on the Ronald Reagan National Airport, delineates the D.C. Special Flight Rules Area, where drones aren't allowed—and so many consumer drones obediently stay away.
Technology that keeps drones from entering restricted airspace is called geofencing. It's a straightforward system: Drones that support geofencing regularly download databases from their manufacturers that delineate active no-go zones. If a drone flies toward a restricted area, its built-in GPS will sense the boundary, and the drone will stop mid-flight; if an operator tries to take off inside a restricted area, the drone won't start up at all.
Most restricted areas are permanent. An area five miles in radius around airports, for example, is always off-limits to drone enthusiasts, without prior approval from the airport's control tower. But the Federal Aviation Administration also announces temporary flight restrictions, or TFRs, to protect big public events like the Super Bowl, guide pilots away from hazards like wildfires or pipeline explosions, or shield the president when he travels.
Information about temporary restrictions bounces along a winding path on its way to many of the hundreds of thousands of drones in the United States. Here, for example, is how information about President Trump's upcoming visit to Mar-a-Lago, his club in Palm Beach, Florida, will end up being disseminated to consumer drones.
The process for establishing a presidential TFR begins when the Secret Service reaches out to the FAA and requests that a protective zone be set up wherever the president is headed. The FAA then publishes a Notice to Airmen, or NOTAM, with details about the restriction. Every time a pilot is getting ready to start their engines—whether they're flying a business jet, prop plane, or three-pound drone they got for Christmas—they are supposed to check for new NOTAMs to make sure their flight path doesn't cross restricted airspace.
The FAA has a clunky website where pilots can browse current and scheduled NOTAMs, but there are easier ways to access that data, too. The agency has a free, simple smartphone app called called B4UFLY that uses the phone's GPS to show nearby restrictions—and it shares that data with a few other companies as well.
One of them, AirMap, gets data about travel restrictions from the FAA every few minutes, a spokesperson for the company said. In addition to plotting them on an interactive map,  the company makes the data available to drone companies that subscribe to its service—including DJI, the largest manufacturer of consumer drones.
DJI, in turn, classifies the data in three categories: warning zones, authorization zones, and restricted zones. Finally, those areas, with their classifications, are sent to every internet-connected DJI drone that supports geofencing.
Warning zones tell drone operators they're flying over a special area, but don't prevent flight there—a protected wildlife area might be categorized this way.
Most temporary flight restrictions are designated as authorization zones, which require drone operators to confirm their intention to fly in. When a drone noses up against one of these, its operator will be asked to "self-authorize," acknowledging the fact that there might be extra rules in the area the drone is entering. "By doing that, you say in the popup window that you have authorized business in here," said Adam Lisberg, a spokesperson for DJI. (The 30-mile zone around D.C., for example, is an authorization zone.)
To self-authorize, operators need to have connected their drone to their identity by submitting a mobile phone number or a credit-card number. That way, if law enforcement has questions about a DJI drone flying where it shouldn't be, the company can help police track down its operator. Lisberg says the company complies with all legitimate law enforcement requests, but wouldn't share any details about how often such requests come in.
Restricted zones come with the most limitations. Those areas, which protect sensitive locations like airport runways or nuclear power plants, are inaccessible to DJI drones, and aren't eligible to be unlocked by authorized users. (Since drones are sometimes used to inspect sensitive infrastructure like airports and power plants, DJI makes case-by-case exceptions as needed.)
This weekend, the FAA will activate a flying restriction that's 60 nautical miles in diameter around Palm Beach, to coincide with Trump's visit. The agency has a standing protocol for protecting Mar-a-Lago, since it's a usual haunt for the president.
But although presidential TFRs are designed to protect the leader of the free world from aerial attacks, they aren't categorized as a restricted zone in DJI's system. Like any other TFR, such as one established over a wildfire, it's designated as an authorization zone. That means a verified DJI drone operator who's willing to take a risk could self-authorize and fly their drone near the president this weekend, if he or she wanted to.
A spokesperson for the FAA says that there shouldn't be any difference between TFRs for drone operators. "If you're not allowed to fly there, you're not allowed to fly there," the spokesperson said.
DJI's system is solely educational, Lisberg said; it's not designed to enforce air-traffic laws or punish bad actors. "That's not our job any more than a car manufacturer is responsible for making sure people adhere to the speed limit." It remains the responsibility of each drone operator to make sure they're not flying someplace they shouldn't.
Several other drone manufacturers use the FAA's or AirMap's data for flight awareness, too, including Intel, Aeryon Labs, 3D Robotics, Yuneec, and senseFly, the commercial arm of a popular French drone maker called Parrot. (A Parrot representative said the company's consumer drones don't have automatic geofencing technology, and that its commercial drones only use AirMap data for flight planning.)
Ultimately, no matter how detailed the data is that AirMap feeds to drone manufacturers, the final authority on temporary flight restrictions is the FAA. If a drone operator really wants to circumvent restrictions built into his or her drone, there's little in the way of liftoff, except for the legal consequences the government might impose if the drone is discovered in the air: The FAA says individuals can be fined more than $1,400 for violating TFRs.