House Oversight Probes Obama's Tech Teams: 'Why Do We Have 18F and USDS?'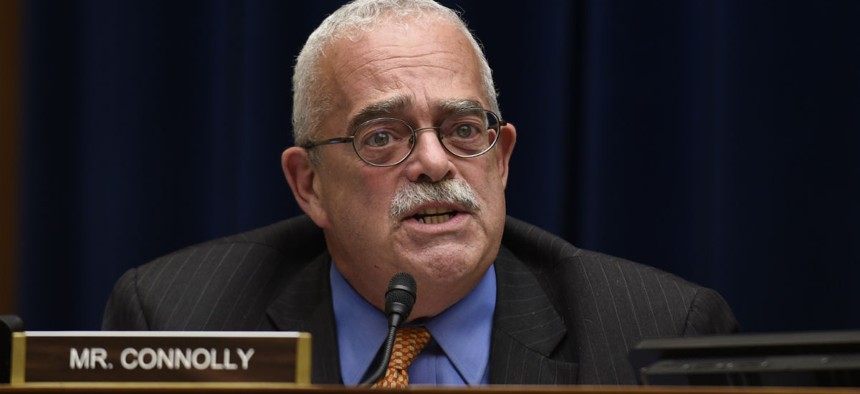 Lawmakers probed the Obama administration's vaunted tech teams Friday, searching for answers about the sustainability of a model that cycles private sector developers and engineers into the government for short-term rotations.
Both the U.S. Digital Service and 18F, which function as consultancies for other agencies and recruit from tech companies including Twitter and Amazon, have been the subjects of a recent Government Accountability Office review. A draft GAO report surfaced concerns that USDS teams might leave agencies' chief information officers out of the decision-making process, and that 18F will take several years to recoup its costs, among others.
The two groups -- the White House-based USDS, which troubleshoots wide-reaching federal projects, and the General Services Administration's 18F, which focuses on smaller undertakings designed to promote agile development -- are part of a broader effort within the administration to recruit from the private sector. Founded less than three years ago, those teams are joined by similar federal efforts including new Homeland Security Department and Pentagon offices in Silicon Valley.
» Get the best federal technology news and ideas delivered right to your inbox. Sign up here.
Is there a mismatch between startup culture and the federal government?
"The federal government doesn't have the appetite for the level of risk that the startup community or the the venture world has," Rep. Will Hurd, R-Texas, said during a House Committee on Oversight and Government Reform hearing examining the two groups. "We have a responsibility to our constituents … that we're using their money wisely and smartly."
During the hearing, lawmakers tempered their support for updating federal technology with questions about the groups' relationships with contractors, internal workflow and finances.
"Why do we have 18F and USDS? What is the value to the government and how does it avoid competing directly with the private sector?" Rep. Gerry Connolly, D-Va., asked during the hearing. "Why not just issue an RFP for these services as we normally do?"
18F lets agencies procure agile services quickly, and teaches other parts of the government to "innovate on a small-scale basis and expand," testified Dave Powner, director of IT management issues at GAO. As for USDS, "we've always supported a SWAT team out of the White House that could parachute in and save" large projects including HealthCare.gov's botched rollout, he said. 
Will 18F Impinge on Contractors' Business?
Tech contractors have accused 18F of opting to build new technology in-house instead of buying it from contractors, potentially eroding their business, Rep. Blake Farenthold, R-Texas, noted during the hearing.
"We haven't done a very good job of communicating what 18F does," said Phaedra Chrousos, commissioner of the Technology Transformation Service that includes 18F. "We absolutely take a 'buy first' approach," she said, noting while one of 18F's services builds out prototypes for other agencies, it's mostly meant to "showcase modern methodologies and practices."
Asked about 18F's ability to recover costs -- currently slated for 2019 -- Chrousos said her team examines their finances weekly to approach cost recovery. She told Hurd that pending approval from GSA and the chief financial officer, she could share publicly 18F's accounting for cost recovery including cost structures and project fees.
GAO testimony shows 18F spends about $ 1 million a month more than it gets back in revenue -- meaning that by the end of the 2016 fiscal year, it could wind up with an operating loss of $33 million.
USDS: CIOs and Priorities
USDS is most successful when the teams are small and focused on a high-priority project that affects multiple agencies, when agency leaders are supportive and when the digital service team is integrated with existing contractors, USDS Administrator Mikey Dickerson said during opening remarks.
During the hearing, lawmakers fixated on a GAO recommendation that USDS more clearly define how its teams are supposed to work with agency CIOs. (USDS has been tasked with setting up satellite teams in other departments.)
"I'm concerned by reports that USDS teams may parachute into the agency, fix whatever they perceive was the problem and then leave, without the full buy-in and involvement from the agency's CIO," Hurd said. "That should never happen." The State Department CIO told GAO he had "limited involvement in the department's digital services team," the report said.
Asked whether USDS operations were in compliance with the 2014 Federal Information Technology Acquisition Reform Act, which mandates agency CIOs participate more meaningfully in budget and decision-making processes, Dickerson said he felt the digital service teams were "completely in compliance with the spirit and the letter of FITARA."
"The CIO is always part of the agency leadership that we talk to before we embark" on a project, he said. Still, he added, "there is absolutely a spectrum among the CIOs that we work with of the amount of time and interest that they have in the digital services-type projects, given all their other statutory responsibilities."