Senate Committee Advances Measure Letting Agencies Crack Down on Personal Email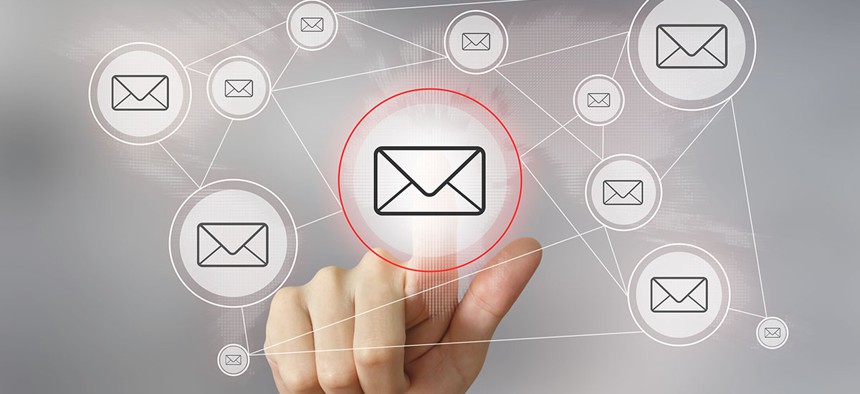 The bill allows agency heads to bypass federal rules requiring them to consult with unions about workplace matters in order to block access to certain websites.
A key Senate committee voted to advance a bill that would allow federal agencies to bypass employee unions in order to block access to webmail and other websites deemed security risks.
The Senate Homeland Security and Governmental Affairs Committee unanimously voted to approve the measure May 25 along with more than a dozen other bills relating to government management.
The legislation "puts us on a path forward to ensure that federal agencies can act quickly to address any vulnerabilities and secure their IT networks," said Joni Ernst, R-Iowa, who introduced the Senate version of the "Federal Information Systems Safeguard Act."
The bill allows agency heads to bypass federal rules requiring them to consult with unions about workplace matters in order "to limit, restrict, or prohibit access to any website the head of the agency determines to present a current or future security weakness."
The Senate bill's language is less expansive than that included in a similar bill passed out of a key House committee earlier this year. The House version, which would allow agency heads to "take any action" necessary to remediate security vulnerabilities, came under fire from Democratic members who called the bill "dangerously overbroad" and ripe for abuse by agency heads.
"No matter what you believe about blocking employee access to email, this bill goes so far beyond that it loses the point," said Rep. Elijah Cummings, D-Md., in a statement at the time.
The Senate version did not attract the same level of opposition from Democrats in part because of an amendment, inserted by Sen. Tom Carper, D-Del., the ranking Democrat on the committee, that requires agency heads -- once they've taken action --  to "take into consideration and seek guidance on the personal communication needs of the employees of the agency."
Sen. Tammy Baldwin, D-Wis., voted to pass the measure out of the committee but said she had concerns that she hoped would be addressed before the full Senate takes it up.
Baldwin said she agreed with the intent of the Federal Information Systems Safeguard Act but remained concerned "about the collective bargaining rights of federal employees" and wanted to ensure employees "have recourse if they disagree or have a legitimate need that does not coincide with their agency's decision."
The motivation for the legislation stems in part from a 2015 decision by the Federal Labor Relations Authority that found the Immigration and Customs Enforcement had erred in blocking employees' on-the-job access to their personal email accounts without consulting with unions.
Last summer, after the Office of Personnel Management cut off access to personal email accounts -- following the massive hack of federal employee background investigation files stored at the agency -- the American Federation of Government Employees also threatened to sue the agency.
The Senate committee on Thursday also voted to advance a bipartisan bill codifying much of the Obama administration's open data efforts.
The OPEN Government Data Act would require federal agencies to publish data online in modern, open and electronic formats.