New Playbook Examines Dos and Don'ts for Federal Innovation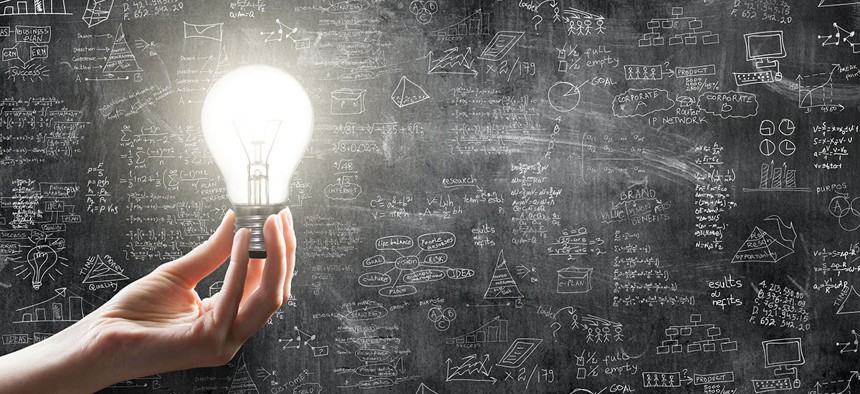 Agencies should navigate the innovation process like an hourglass: start big with plenty of people pitching various ideas.
Instead of turning to Silicon Valley innovators, federal agencies should take a look at those closer to home: their chief information officers. 
That's according to a new playbook on CIO-enabled innovation, released Wednesday through the IBM Center for the Business of Government. The playbook highlights best practices and common challenges when agencies develop innovative tools.
The authors, Gregory S. Dawson, a senior faculty associate at Arizona State University, and a Royal Military College of Canada's associate professor James S. Denford, interviewed close to a dozen current and former agency CIOs.
The innovation process is similar to an hourglass in that it should start big with plenty of people pitching various ideas, according to the playbook. It should then get increasingly narrow to include a select few agency staffers, tasked with screening and experimenting to determine the best idea.
"This can be daunting; many innovative ideas are 'nice to haves,' but fail to rise to the level of improving the organization," the playbook states.
One key recommendation? Identify who the potential user will be, so the agency can measure the idea's value based on the value to the user. 
As the hourglass widens back out, so, too, should the innovation process.
The agency should give members of its large ecosystem the chance to screen the idea. The amount of screening should be based on the size of the change, according to the playbook. For example, operational innovations should include less scrutiny than strategic innovations.  
By the "experimentation" phase of the innovation process, which includes examining and refining the tool, the agency should be fully involved in the process. It should then conduct meticulous planning to bring the innovation to scale, followed by implementation throughout the agency. 
"This stage is the most challenging because it is only now that reluctant adopters are pushed to adopt," the playbook states. "To address this, the organization needs a strong change management plan to accompany the innovation."
The playbook's authors also included five recommendations for agencies to stimulate innovation. These included such suggestions as CIOs both launching a formal process for enabling innovation and examining current and desired innovation maturity levels.
The authors interviewed officials including Federal Communications Commission CIO David Bray and Interior Department CIO Sylvia Burns. 
They asked participants questions that ranged from "How important is technology for the achievement of your mission?" to "What are the biggest impediments to successful innovation at your agency?," according to the playbook.
(Image via 4Max/Shutterstock.com)