Federal Customer Experience Still Terrible, Study Says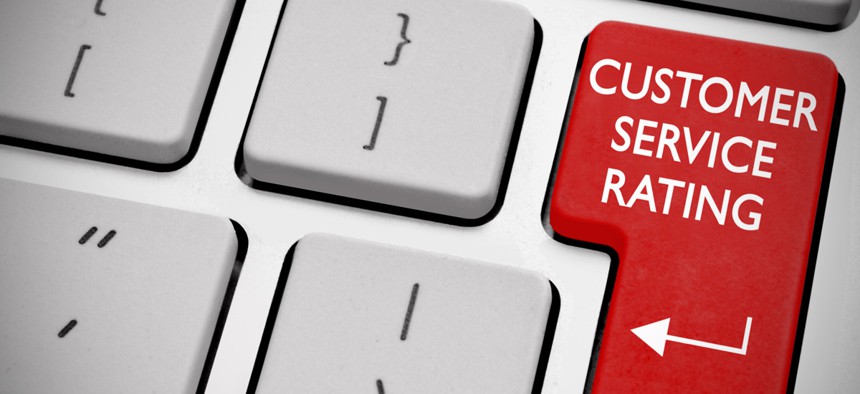 On average, the public is less satisfied with customer experience at federal agencies than they are with both TV and Internet service providers, according to a Forrester research study published Thursday.
For years, headlines have lambasted the federal government's poor customer experience. And despite recent years' focused attention on improving the situation, not much has changed and the public remains largely unimpressed. In a study released today, federal agencies were awarded an average customer experience score of "poor." And compared to the 17 private sector industries also evaluated, made up of hundreds of businesses, federal agencies also dominated in the survey's "very poor" category.
Not that the private sector fared much better. The average customer experience score for industry was "OK," according to Forrester Research's newly released CX Index.
Eighteen agencies were incorporated in the study, including the departments of Veterans Affairs and Education and the Bureau of Consular Affairs.
The federal government was also found to have the largest separation between its lowest- and highest-scoring agencies. Its scores expanded 13 points wider than any private sector industry.
The two agencies with the best customer service included the National Park Service and the U.S. Postal Service. 
Unsurprisingly perhaps, the Department of Health and Human Services' HealthCare.gov portal received the lowest score of any industry.
The study also examined the relationship between customer experience and the public's opinion of the political system as a whole.
Participants were asked to rate the degree to which a series of statements describes each agency. These statements included, "Makes me proud of this country," "Makes me optimistic about the country's future" and "Is a good example of how the government should be."
The majority of respondents said they do not believe almost any federal agency inspires these sentiments.
The only agency in which those polled responded positively to all three statements was the National Park Service.
Federal agencies were consistently awarded lower scores than the private sector for everything from how valued customers feel to how well employees communicate in "plain language."
"Federal agencies that avoid using government-speak and technical jargon when talking to customers have better CX quality than those that don't," stated the study.
Agencies may be able to raise their customer experience scores by doing such things as consistently finding a solution to any issue or problem that arise and truly understanding the needs of customers, according to the report.
The survey was conducted online at the end of last year. It polled over 46,000 American adults.
(Image via Pixelbliss/ Shutterstock.com)