Pentagon Partners with Silicon Valley on 'Flexible Electronics'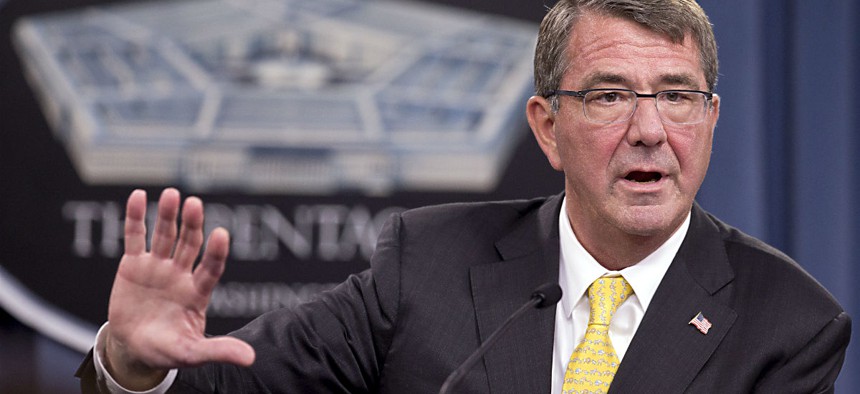 The Pentagon is partnering with Silicon Valley stalwarts, including Apple, to develop flexible electronics -- thin, bendable sensors that can be embedded in fabric or circuits that can conform to other structures. 
The Defense Department is launching the new public-private partnership to research applications for flexible technology, which could be used to create higher-tech bandages for soldiers or report on the maintenance needs of jet engines, among many other potential applications. 
Eventually, manufacturers such as Boeing and General motors could embed flexible technology directly into their products, according to a DOD press release. 
As part of the partnership, DOD plans to invest $75 million to establish the Manufacturing Innovation Institute for Flexible Hybrid Electronics, to be based in San Jose, California, Defense Secretary Ashton Carter announced Friday at Moffett Field in Mountain View. Nonfederal groups are contributing another $96 million to the effort.
Carter told the West Coast audience he was the first defense secretary in almost 20 years to visit Silicon Valley, and that he was working on "rebuilding the bridges between the Pentagon and Silicon Valley."
The research consortium, made up of 162 universities, nonprofits, government groups and businesses, will also study more efficient and lower-cost manufacturing processes. 
Members of the group include Apple, United Technologies, Hewlett Packard, Qualcomm, Stanford University, Harvard University and MIT. The institute will be managed and established by the FlexTech Alliance, a group of companies developing and investing in flexible and printed electronics.
Friday's announcement builds on the federal government's growing interest in Silicon Valley's concentration of technology expertise. In April, the Department of Homeland Security announced plans to open a satellite office in California. The same month, the Pentagon first announced its plans to establish an outpost in the Silicon Valley area. 
Carter said Silicon Valley's dense geographic network of tech companies is one of its most valuable assets. "Everyone's in the same area, which not only helps forge relationships but also helps spread new ideas," he said. 
He also noted public-private partnerships like these could mean that "more of America's brightest minds can contribute to our mission of national defense, even if only for a time."