Senate Advances Bill to Limit NSA Spying, Restore Patriot Act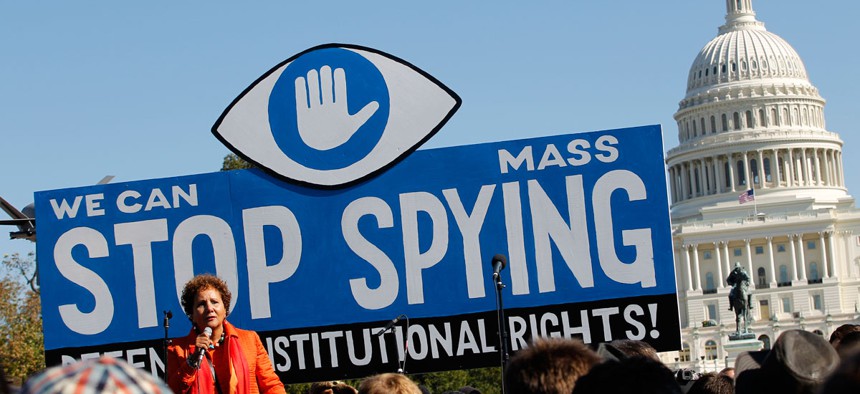 Rand Paul's stand against the National Security Agency is finally winding down.
The Senate took a major step forward Tuesday toward passing comprehensive surveillance reform and reviving the lapsed spy provisions of the Patriot Act, easily clearing a procedural hurdle that could allow the final legislation to be voted on and signed by the president later in the day.
By an overwhelming margin, lawmakers agreed 83-14 to formally end debate on the measure known as the USA Freedom Act, which would restore the three provisions of the Patriot Act that expired on June 1, but usher in a bevy changes designed to better protect privacy and increase transparency.
The bill would also end the NSA's controversial bulk collection of U.S. call metadata, a program secretly justified under Section 215 of the Patriot Act until it was exposed publicly by former intelligence contractor Edward Snowden two years ago. The measure would transition within 6 months toward a system where phone companies provided records to government spies on an as-needed, more-targeted basis after judicial approval is obtained from the secretive Foreign Intelligence Surveillance Court.
Snowden, who is living in exile in Russia, weighed in on the legislation as final votes were underway Tuesday during a live video-stream discussion with Amnesty International UK, calling the Freedom Act's changes to Section 215 "not enough."
"It's a first step, and it's an important step," he added.
But the brinkmanship is not over yet. Though the House-passed Freedom Act is almost certain to gain final approval in the Senate—and could do so later Tuesday—Majority Leader Mitch McConnell is attempting to pass a number of amendments that privacy advocates warn would water down the measure.
McConnell's amendments represent a last stand from the majority leader after he buckled under growing pressure to allow the reform measure—which he initially whipped aggressively against—to go forward.
"What's happened has happened, and we are where we are," McConnell said Tuesday morning.
His amendments face long odds in the House, where several lawmakers have already come out to denounce them as nonstarters for a bill that passed their chamber with 338 votes last month. Majority Whip John Cornyn said the amendments would happen Tuesday afternoon, after party lunches.
But despite heavy lobbying by Senate GOP leadership, it is unclear if they have the votes to pass—and they face stiff opposition in the House.
Republican Sen. John Barrasso joined the House Republican conference meeting Tuesday morning to brief them on the Senate's actions on everything from a must-pass transportation bill to health care. During the question-and-answer session, the topic turned to the Freedom Act, however, and House members made it clear in the meeting that they were not interested in seeing any "poison pill" amendments added to their bill.
According to several members in the room, one of the bill's original sponsors Republican Rep. Jim Sensenbrenner—who also authored the original Patriot Act—led the discussion, making it clear amendments would not be accepted.
Barrasso was coy in the meeting, sources said, but not overly confident that the Senate amendments stood a real chance of passing, according to members in the room.
"Sen. Barrasso said he did not think that those amendments would be on the bill, and he seemed to be somewhat confident that ultimately it would be the House-passed version," one Republican said on the condition of background to speak freely about the meeting.
Even Rep. Peter King, a GOP defense hawk from New York who supports the changes McConnell is trying to make, said it was time to let it go.
"I don't know if it would pass the House if the bill comes over here with those amendments in it," King said. "Some of us are in an awkward spot because I could support each one of those amendments 100 percent, but at this stage, it could end up delaying the whole bill."
Continued debate between the two chambers would stretch out the Patriot Act lapse even longer, meaning the intelligence community will continue to lack some tools it claims are essential to preserve national security. On Monday, the White House press secretary, Josh Earnest, dismissed McConnell's proposals and urged the Senate to pass the Freedom Act "as soon as possible," noting lawmakers had already "blown through" their deadline.
Regardless of what happens with the amendments, the bill's passage amounts to the first major loss of McConnell's six-month stewardship over the Senate as majority leader—a position of power the Kentucky senator has long coveted.
When the taciturn strategist seized the reins of the chamber with the GOP takeover of the Senate after last year's election, he pledged to move away from the governing-by-crisis model that has gripped Capitol Hill in recent years—but the Patriot Act debate has been defined by a sequence of dramatic standoffs remarkable even by Washington standards.
McConnell was stymied before the Memorial Day recess by Rand Paul, his fellow Republican from Kentucky who is using his stiff opposition to government surveillance as a central plank—and fundraising machine—of his presidential campaign. Paul and Democratic Sens. Ron Wyden and Martin Heinrich blocked efforts by McConnell to extend the Patriot Act deadline even by one day, forcing the Senate to return for a rare Sunday session this week to avoid going over the cliff.
But Paul continued to use the power afforded to one senator to delay votes and force an expiration, while many blamed McConnell for waiting to take up consideration of the Freedom Act until the last minute in order to use the clock to his advantage.
Paul voted against proceeding on Tuesday, as did Republican Sen. Marco Rubio and Independent Sen. Bernie Sanders. All three are running for president.
Republican Sen. Lindsey Graham, who formally announced his White House bid on Monday, did not vote. The defense hawk, who is among the most vocal defenders of NSA surveillance, was in New Hampshire for a campaign launch rally. 
Sarah Mimms contributed to this article.