FCC Prepares to Become the Internet's Privacy Cop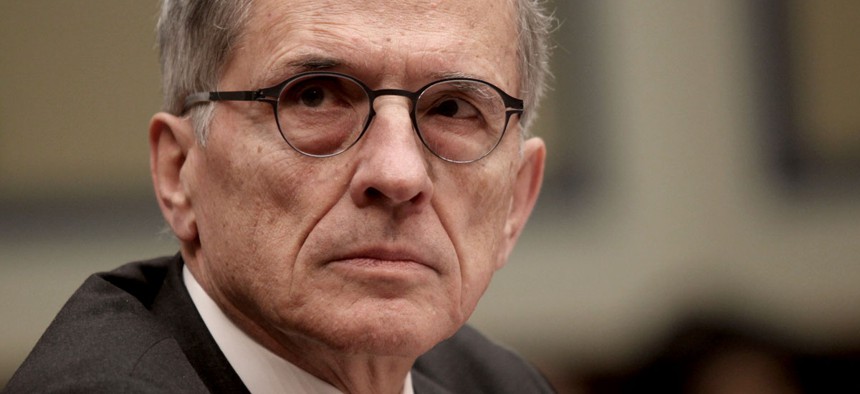 The Federal Communications Commission is warning Internet providers to get in line as it prepares to enforce new privacy regulations.
The agency issued an "enforcement advisory" Wednesday, outlining for the first time how it plans to decide whether to crack down on a company for violating its customers' privacy. But the statement offers few specifics, leading critics to warn that the agency is claiming expansive new regulatory powers.
Internet providers, the FCC said, should take "reasonable, good faith steps" to protect customer information. That means that Internet providers should comply with their own privacy policies and the "core tenets of basic privacy protections," the agency said, adding that companies should reach out to it for advice on whether specific practices would violate the rules.
Berin Szoka, the president of the libertarian group TechFreedom, said the FCC's statement "confirms my worst fears."
"There are no limiting principles on what the agency is doing, and they're going to make it all up as they go," he said.
But Harold Feld, the senior vice president of Public Knowledge, a consumer advocacy group, said that, if anything, the FCC is trying to calm industry fears.
"They're just saying, 'Don't freak out, make a good faith effort to comply with the law, and if you have any questions you can call us,'" he said.
The privacy rules aren't meant to apply to websites such as Facebook and Google. But they will restrict how Internet providers such as Comcast, Verizon, and AT&T can handle customer information. Privacy advocates worry that Internet providers pose a particularly serious threat to privacy because they potentially have access to all of the information that flows over their networks, and it's difficult for customers to switch to competitors.
The FCC plans to implement the privacy protections as part of its net neutrality regulations, which are set to go into effect June 12.
In order to enact net neutrality rules that it believed could hold up in court, the FCC expanded its power over Internet service by classifying it under the same regulatory regime as landline telephones.
That classification comes with dozens of regulations that have little to do with net neutrality. While the FCC waived most of those requirements for Internet providers, one section that will apply is the agency's privacy protections.
The FCC already has detailed privacy rules for phone companies, but much of the references to phone numbers and call records would make little sense in the Internet realm. So FCC Chairman Tom Wheeler has said he wants to issue new rules to clarify exactly what privacy obligations Internet providers have. But it could take months or years for the FCC to write those new rules.
The agency said this week's enforcement advisory is meant to outline how the FCC plans to handle the issue until it can write those detailed rules.
But Szoka questioned whether that day will ever come.
"They do not want to do a rulemaking," he said. "They want to retain as much flexibility as they can without tying themselves down in details that can be challenged in court."
He predicted that the agency will start by taking up non-controversial cases, but will gradually expand its power over Internet privacy. It may eventually even try to go after Web companies in addition to Internet providers, he said.
"This is not Jade Helm 15," Feld countered, referring to planned military training exercises that have sparked conspiracy theories of a government takeover. "Only in the fevered imaginations of the paranoid could this statement … translate into a secret plan to regulate Google and Facebook."