CIA's Official Book Reviewer Unimpressed with Tomes on Snowden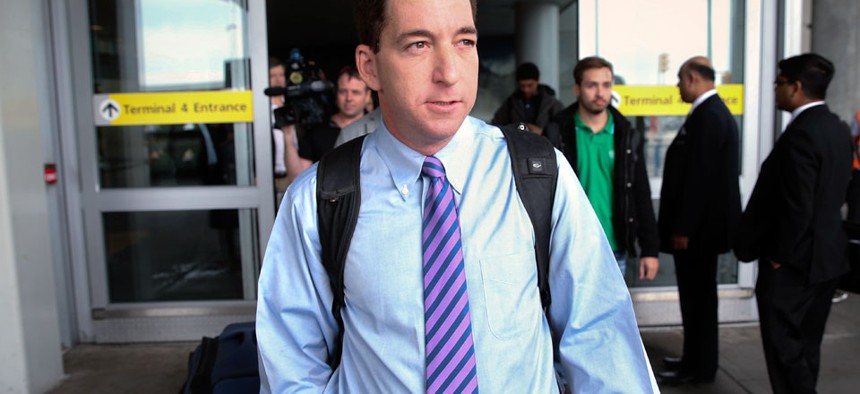 The spy agency describes Glenn Greenwald's recent book as full of "bitter ad hominem rationale."
The CIA has posted three short reviews of books dealing with fugitive leaker Edward Snowden on its website, including an unflattering write-up of journalist Glenn Greenwald's recent best seller.
While none of the reviews are positive, the agency takes particular issue with Greenwald's book,No Place to Hide, which documents his meeting with Snowden in Hong Kong last summer and his subsequent writing exposing the government's top-secret surveillance activities, which ignited a frenzied, ongoing international debate about the proper scope of intelligence-gathering operations.
Greenwald's book "is the most complete, though far from the most objective account of the Snowden affair to date," the CIA's Hayden Peake, an agency curator, writes. "Greenwald sums up the common themes of these three books: Snowden's acts were justified because he chose to seek 'reform of the surveillance state,' and journalists have the absolute right to be the final arbiters of what to publish. Greenwald's often bitter ad hominem rationale for this is unlikely to be the last word on the subject. "
Peake also has overviews of Luke Harding's The Snowden Files and The Snowden Operation,an e-book by Edward Lucas. All three, Peake writes, describe "the basics of Snowden's broken family life, his half-finished education, his political beliefs, and his devotion to the Internet."
While Peake mostly dismisses the value of any of the Snowden books, he does praise The Snowden Operation for describing how a "legitimate whistle-blower" in Snowden's position could have behaved in order to achieve "the practical goals Snowden espoused."
The "legitimate" argument is likely to rankle Snowden and his supporters, who have repeatedly insisted he tried to sound alarms internally before deciding last year to leak a trove of documents to journalists.
The Snowden Files, according to Peake, "offers nothing significant not found in the other two" books.
The CIA and the broader U.S. intelligence community has been locked in a public-relations battle with Snowden and anti-spying advocates ever since the computer technician's disclosures began surfacing last June. The agency has in recent months attempted to portray itself as a more approachable organization by deploying an at-times humorous tone on its official Twitter feed, although such efforts have also been routinely met with skepticism and ridicule.
Peake's reviews—which are accompanied by a note that states opinions "expressed in this journal are those of the authors" and do not necessarily imply government endorsement—appear on the CIA's "intelligence officer's bookshelf" page, which is frequently updated with brief write-ups of recent books, including memoirs and historical texts.
The page appears to have been last updated in October.
Before his gig as an NSA contractor, Snowden worked for the CIA as a systems administrator.