Ebola Vaccine Development Probably Too Late to Deal with Current Crisis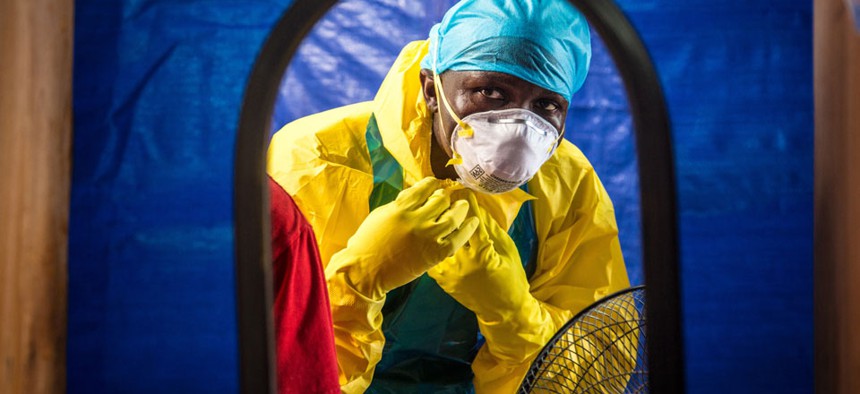 The Department of Health and Human Services has three Ebola virus vaccines in the research and development pipeline  to prevent the spread of the disease at home and abroad as quickly as possible.
 "We are pushing hard to advance the development of multiple products as quickly as possible for clinical evaluation," said Robin Robinson, director of the agency's Biomedical Advanced Research and Development Authority. "Our goal is to close the global gap in vaccines and therapeutics needed to protect the public health from Ebola as highlighted by the epidemic in West Africa."
But officials with GlaxoSmithKline, a major United Kingdom drug company, said it's probably too late to develop vaccines to deal with the current outbreak. Ripley Ballou, head of the company's Eboloa research unit, on Friday told the BBC full data on the safety and efficacy of its vaccine would not be ready until late 2015.
GlaxoSmithKline is trying to compress trials that would take a decade into a period of 12 months, the BBC reported, and the company expected to have 20,000 doses ready to be tested by health workers early next year.
"At the same time, we have to be able to manufacture the vaccine at doses that would be consistent with general use, and that's going to take well into 2016 to be able to do that," Ballou said.
HHS is supporting phase 1 clinical trials of an experimental Ebola vaccine developed by GlaxoSmithKline and another vaccine developed by the Public Health Agency of Canada and licensed to NewLink Genetics Corp. of Ames, Iowa. 
Phase 2 clinical efficiency trials for these two vaccines are expected to begin in 2015, HHS said.
Phase 1 trials involve a small group of people to evaluate the prospective vaccine's safety, determine a safe dosage range and identify side effects. In Phase 2 trials, the vaccine is given to a larger group of people.
This Tuesday, HHS awarded Baltimore-based Profectus BioSciences Inc., an $8.6 million contract for further development of a vaccine the company said had proven 100 percent effective in animal tests.
HHS said the Profectus contract builds on early research of the experimental vaccine supported by the National Institute of Allergy and Infectious Diseases and animal studies supported by the Defense Department.
In the DOD studies, a single dose of the experimental Ebola vaccine provided 100 percent protection in nonhuman primates.
HHS will support further development of the vaccine against the Ebola virus strain responsible for the current epidemic, the agency said.