IOM Report: Defense/VA Have No Clue if $9.3 Billion Worth of PTSD Treatment Works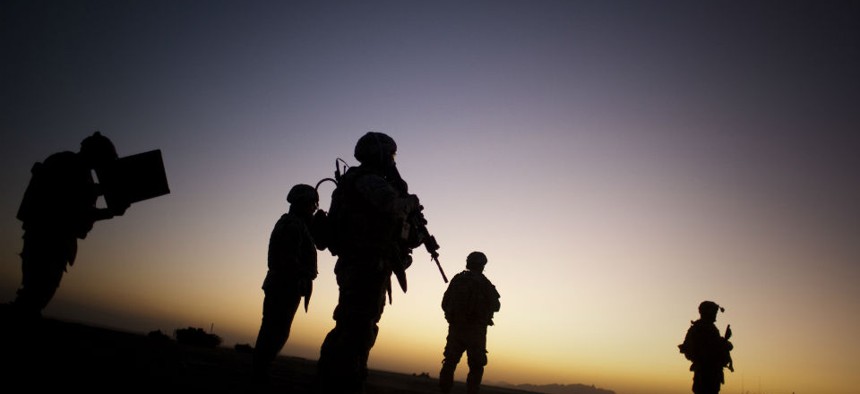 The Defense and Veterans Affairs departments spent $9.3 billion to treat post-traumatic stress disorder from 2010 through 2012, but neither knows whether this staggering sum resulted in effective or adequate care, the Institute of Medicine reported today.
DOD spent $789.1 million on PTSD treatment from 2010 through 2012. During that same time period, VA spent $8.5 billion, with $1.7 billion treating 300,000 Iraq and Afghanistan veterans.
DOD lacks a mechanism for the systematic collection, analysis and dissemination of data for assessing the quality of PTSD care, and VA does not track the PTSD treatments a patient receives, other than medications, in its electronic health record, IOM said in the congressionally mandated 301-page report, "Treatment for Posttraumatic Stress Disorder in Military and Veteran Populations: Final Assessment."
IOM estimated 5 percent of all service members have PTSD. Eight percent of those who served in Iraq and Afghanistan have been diagnosed with the condition. The number of veterans of all eras who sought care from VA more than doubled from 2003 to 2012 -- from approximately 190,000 veterans (4.3 percent of all VA users) in 2003 to more than a half million veterans (9.2 percent of all VA users) in 2012.
For those treated for PTSD in the VA system in 2012, 23.6 percent (119,500) were veterans of the Iraq and Afghanistan wars. 
Sandro Galea, professor and chair of the department of epidemiology in the Mailman School of Public Health at Columbia University and chairman of the IOM committee that produced the PTSD report, questioned the lack of hard data on the effectiveness of PTSD treatment in both departments.
 "Given that the DOD and VA are responsible for serving millions of service members, families and veterans, we found it surprising that no PTSD outcome measures are used consistently to know if these treatments are working or not," he said.
IOM also questioned the structure and organization of treatment programs in both departments. Treatment in the Military Health System "appears to be local, ad hoc, incremental and crisis-driven, with little planning devoted to the development of a long-range approach to obtaining desired outcomes."
DOD has a universal electronic health record, but no attempt has been made to use it to assess PTSD treatment outcomes in the aggregate, and purchased care providers outside the Military Health System cannot access it, IOM said.
VA, IOM said, has a more unified organizational structure for its PTSD treatment programs, but "without data on which treatments patients are receiving and whether they are improving as a result of their treatment, the departments have no way of knowing whether the care they are providing is effective or whether DOD and VA's expenditures are resulting in high-value health care." 
VA is modifying its electronic health record system to capture the psychotherapy each patient receives, IOM reported.
IOM recommended DOD and VA develop an integrated, coordinated and comprehensive PTSD management strategy, use standard metrics to screen for, measure and track PTSD symptoms and use a health information technology system that documents a patient's PTSD treatments and progress so the data can be aggregated at the provider, program, facility, service, regional and national levels.