DHS Shifts Nuclear-Screening Focus to 'High-Risk' Cargo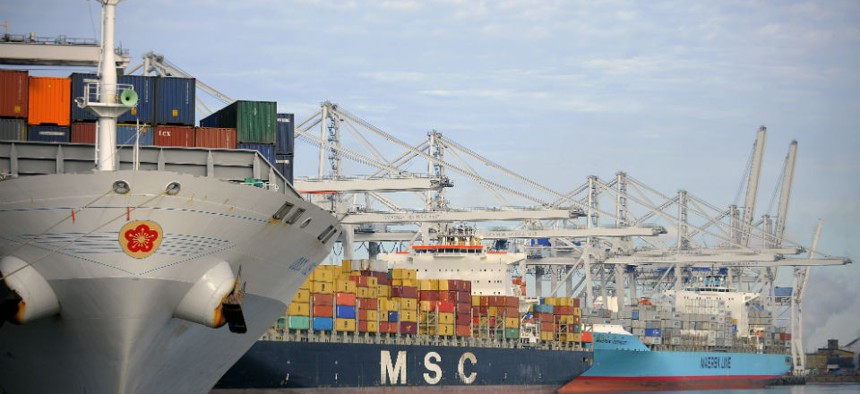 Homeland Security officials said they are moving to tighten overseas checks of U.S.-bound cargo containers deemed likely to be hiding nuclear contraband.
Federal authorities hope foreign seaports will eventually scan all cargo they consider at "high risk" of containing weapon-usable nuclear or radiological materials, according to Wednesday testimony by Kevin McAleenan, acting deputy commissioner for Customs and Border Protection.
About 15 percent still is not checked before reaching U.S. shores, McAleenan said at a hearing of the Senate Homeland Security and Governmental Affairs Committee.
"We're currently ... assessing how the threats have changed" in an effort to close the screening gap, he told committee lawmakers.
"Are [there] certain strategically important ports that we can add capability? Can we work with additional countries to encourage them to take some measures before [ships are loaded]?"
McAleenan discussed the focus on "high-risk" cargo about a month after Homeland Security Secretary Jeh Johnson told lawmakers his department would not meet a July deadline set by Congress for all U.S.-bound shipping containers to undergo screening at foreign ports for smuggled nuclear and radiological materials. Officials previously postponed the statutory screening deadline by two years.
The mandate is "highly improbable, hugely expensive [and] not the best use of taxpayer resources to meet this country's port security and homeland security needs," Johnson was quoted as saying in a May 5 letter to Senator John Carper (D-Del.), the Senate Homeland Security panel's chairman.
Johnson wrote that his department would focus its efforts on increasing "the percentage of high-risk cargo scanned by prioritizing diplomatic engagement with host governments to increase their support of current [Container Security Initiative] operations."
The department would also "discuss potential expansion of the initiative to additional key ports to ensure that such deployments align with high-risk cargo," he wrote.
This article was published in Global Security Newswire, which is produced independently by National Journal Group under contract with the Nuclear Threat Initiative. NTI is a nonprofit, nonpartisan group working to reduce global threats from nuclear, biological, and chemical weapons.