WikiLeaks Claims NSA Is Recording 'Nearly All' of Afghanistan's Phone Calls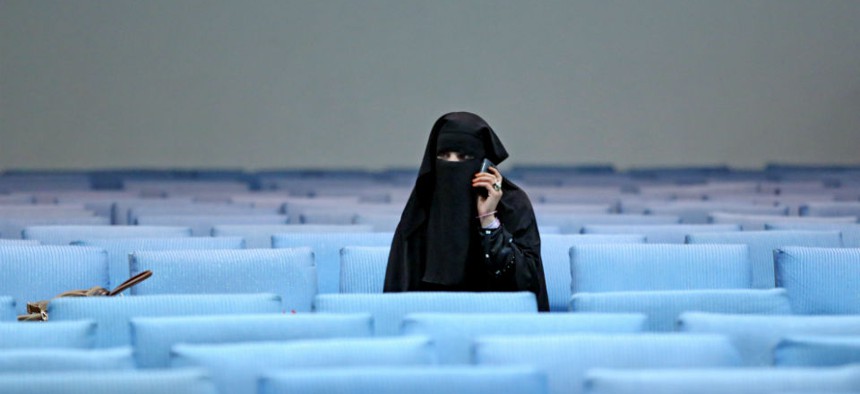 The National Security Agency has been recording and archiving "nearly all" domestic and international phone calls in Afghanistan as of last year, according to the antisecrecy website WikiLeaks.
Following through on a promise made earlier in the week, WikiLeaks revealed Friday the identity of what it says is "Country X," a previously unnamed country that journalism reports have said was subject to an NSA surveillance program that allows agents to listen in to the entirety of its telephone conversations.
The country's identity had been censored by multiple journalism outlets because of requests from U.S. intelligence officials, who claimed its disclosure could significantly jeopardize national security and lead to deaths.
But WikiLeaks, which is known for an aggressive disclosure policy that rarely favors redaction, dismissed such concerns.
"Both The Washington Post and The Intercept stated that they had censored the name of the victim country at the request of the U.S. government," WikiLeaks said in a statement. "By denying an entire population the knowledge of its own victimization, this act of censorship denies each individual in that country the opportunity to seek an effective remedy, whether in international courts, or elsewhere."
If true, the disclosure that the U.S. government is able to listen to almost any phone conversation in Afghanistan could have substantial ramifications for international relations.
The program in question is codenamed MYSTIC and was formed in 2009 to allow NSA analysts to rewind and play back phone conversations taking place within the previous 30 days. The program has been described by one official as a "time machine" that opens a "door into the past," allowing a full replay of the voices on any given call, without the need for prior identification of those on the line.
Earlier in the week, WikiLeaks began a heated debate on Twitter with journalist Glenn Greenwald, a confidant of NSA whistle-blower Edward Snowden. Greenwald is believed to be one of only two people to possess all of the Snowden files. WikiLeaks took issue with a new report from The Intercept, Greenwald's new journalism endeavor, that revealed that the U.S. was covertly recording the conversations of "virtually every cellphone conversation" in the Bahamas, in addition to its content-vacuuming efforts in Country X.
We condemn Firstlook for following the Washington Post into censoring the mass interception of an entire nation https://t.co/jTKVNCK5BJ

— WikiLeaks (@wikileaks) May 19, 2014
@wikileaks @ioerror @johnjcook We published the names of FOUR countries WashPost suppressed- we were *very convinced this 1 would --> deaths

— Glenn Greenwald (@ggreenwald) May 19, 2014
@ggreenwald The fact is Firstlook is acting like a bunch of racists who believe citizens of US dominated countries do not have rights.

— WikiLeaks (@wikileaks) May 19, 2014
Ignoring pleas from Greenwald that he and his fellow journalists were "very convinced" that naming the country would lead to deaths, WikiLeaks abruptly threatened to disclose its identity.
@GGreenwald @johnjcook We will reveal the name of the censored country whose population is being mass recorded in 72 hours.

— WikiLeaks (@wikileaks) May 19, 2014
It remains unclear how the website would possess such top-secret information. On Friday, it refused to give further detail.
"Although, for reasons of source protection we cannot disclose how, WikiLeaks has confirmed that the identity of victim state is Afghanistan," WikiLeaks wrote. "This can also be independently verified through forensic scrutiny of imperfectly applied censorship on related documents released to date and correlations with other NSA programs."
The NSA did not immediately respond to a request for comment. But in a statement provided to National Journal in March, the agency said it "does not conduct signals intelligence collection in any country, or anywhere in the world, unless it is necessary to advance U.S. national security and foreign policy interests."
Greenwald and other journalists with knowledge of the NSA's classified programs did not immediately comment on the veracity of WikiLeaks's naming of Afghanistan.