A Magic 8 Ball, Armed With Data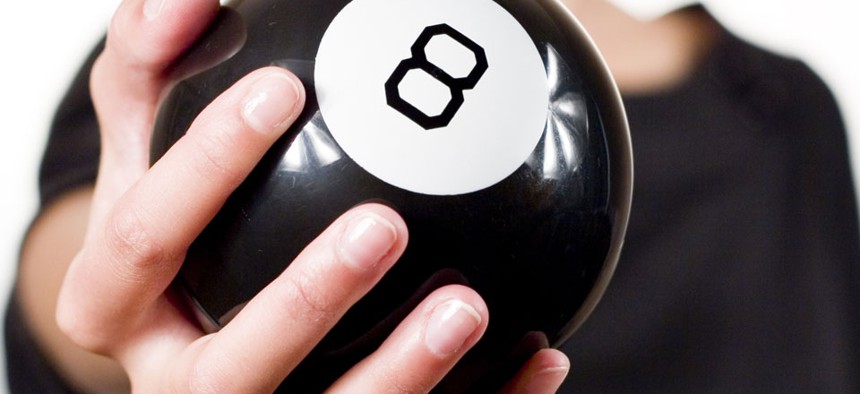 There is an allure to a Magic 8 Ball. You roll the thing in your hands, you ask it a question, and—presto!—you have an answer. The whole thing is wonderfully simple. The only problem—and it's a big problem—is that it's random. Can you really rely on the Magic 8 Ball's advice? My sources say no.
I've long wished, however, that there could be something similar—a Rational 8 Ball or some such—for big life decisions.
Now there is. Or, at least: There's something that claims to be. 
Something Pop is a web tool that promises to help us make better, or at least better-informed, life decisions. The creation of Ben Gimpert, a financial-tech startup co-founder (he built it as a hobby), the tool aims to help us do something that our brains aren't always good at: making decisions based on a clear-eyed, logical assessments of the data at hand. So, say you're considering moving to a new apartment. What's the best location? What's the best price point? How much do you really care about having a gas stove? 
Something Pop lets you take each consideration that would factor into your decision and then assign it a weighted percentage that amounts to its relative importance for you. You hit a button—the web-tool equivalent of shaking the Magic 8 Ball—and your answer pops up. (Something Pop's name, Gimpert says, comes from that: Its point is to help the right decision "pop" up from the rest of the options.) 
"There is something very seductive about quantifying a decision," Gimpert told Slate, "knowing that your own personal priorities and goals went into generating that number." And it's an appeal that recognizes our own weaknesses when it comes to decision-making. We know that we are easily seduced by the things (the jacuzzi tub, the wood-burning fireplace) that may seem significant in the short term, but won't bring us much happiness in the long. We try to compensate for this deficiency. We don't always succeed. Something Pop takes a "quantified self" approach to decision-making—in the hope that, when it comes to the choices we make on behalf of our future selves, the outlook will be good. 
(Image via Irina Mozharova/Shutterstock.com)