That Old Space Race Feeling: NASA Memo Suspends Contact With Russians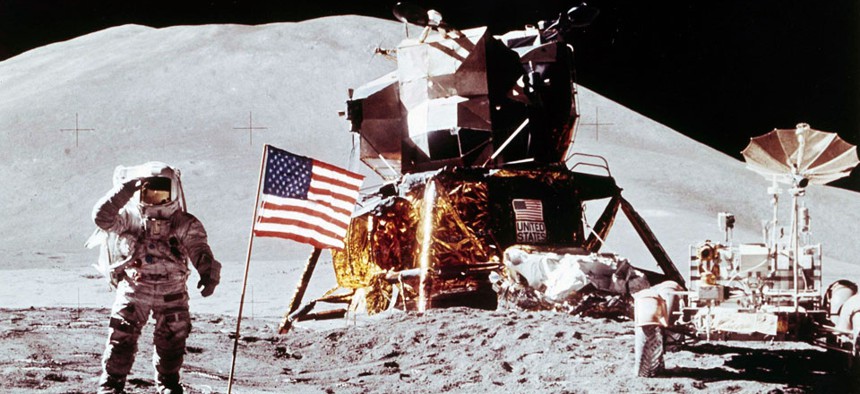 Space has often been celebrated as a place that allows humans, literally and otherwise, to transcend the petty divisions of life on Earth. Astronauts, upon seeing the planet from outside its borders, often comment on how small the planet's vastness makes our differences seem. The grounding philosophy of the International Space Station, first articulated at the height of the Cold War, is that there should be a place outside of Earth dedicated to international cooperation. It's logic so common, and so comforting, that Bette Midler wrote a song about it. 
I mention all that because of this: a memo that was sent to NASA employees this morning. One announcing that, because of "Russia's ongoing violation of Ukraine's sovereignty and territorial integrity," the U.S. space agency will be suspending its contact with representatives of the Russian government. The suspension, The Verge notes, includes "travel to Russia, teleconferences, and visits by Russian government officials to NASA facilities."
It is a big deal.
Here's the purported memo, as published by the site Space Ref: 
From: O'Brien, Michael F (HQ-TA000)  Sent: Wednesday, April 02, 2014 9:33 AM

To: [Deleted]
Cc:  [Deleted]

Subject: Suspension of NASA contact with Russian entities

Dear Colleagues,

Given Russia's ongoing violation of Ukraine's sovereignty and territorial integrity, until further notice, the U.S. Government has determined that all NASA contacts with Russian Government representatives are suspended, unless the activity has been specifically excepted.  This suspension includes NASA travel to Russia and visits by Russian Government representatives to NASA facilities, bilateral meetings, email, and teleconferences or videoconferences.  At the present time, only operational International Space Station activities have been excepted.  In addition, multilateral meetings held outside of Russia that may include Russian participation are not precluded under the present guidance.  If desired, our office will assist in communication with Russian entities regarding this suspension of activities.  Specific questions regarding the implementation of this guidance can be directed to Ms. Meredith McKay, 202.358.1240 or meredith.mckay@nasa.gov, in our office.

We remain in close contact with the Department of State and other U.S. Government departments and agencies.  If the situation changes, further guidance will be disseminated.

Obie

Michael F. O'Brien

Associate Administrator for International and Interagency Relations

National Aeronautics and Space Administration
While it's significant that "operational International Space Station activities have been excepted" from the suspension—three of the six current denizens of the ISS are Russian—it's even more significant that a memo like this went out in the first place, not only given the "neutral zone" logic of our space exploration efforts, but also given how much of NASA's current operational infrastructure relies on cooperation with Russia. (The two Americans currently serving a mission on the ISS? They got there on a Russian Soyuz.)
We did have hints of the move, though: Last week, NASA administrator Charlie Bolden published an unusually passionate blog post denouncing his agency's continued reliance on Russia for that most basic of NASA needs: space launches. "Even as the 'space race' has evolved over the past 50 years from competition to collaboration with Russia," Bolden wrote, "NASA is rightfully focused now more than ever on returning our astronauts to space aboard American rockets–launched from U.S. soil–as soon as possible."