Lawsuit Says GSA Discriminates Against Blind Contractors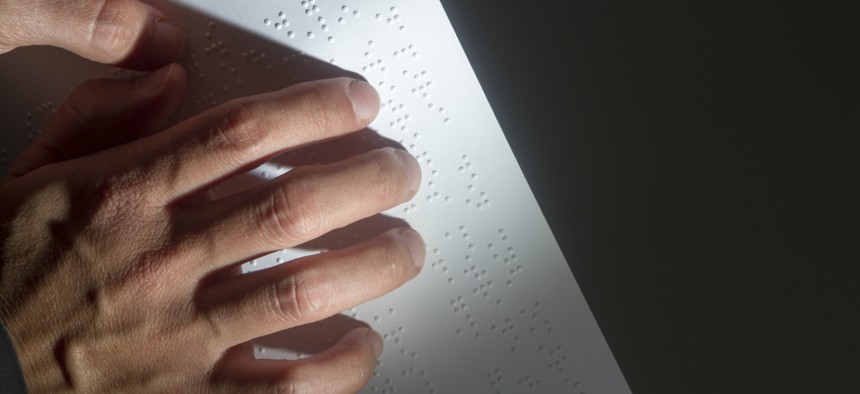 A group of blind federal contractors filed a lawsuit against the General Services Administration this week over a contractor website they say shuts out the visually impaired.
The System for Award Management website, SAM.gov, contains numerous buttons, checkboxes, drop-down menus and "mouseovers" that federal contractors must navigate each year in order to keep their contractor status current. Those bells and whistles make it difficult or impossible for screen reading software that blind people use to navigate the Internet to decode the site, the suit claims.
GSA phone-in help desk employees are also not sufficiently trained in disability issues, the suit claims, making it even more difficult for blind contractors to complete their registrations.
The suit was filed as a class action by the American Council for the Blind and the Washington Lawyers' Committee for Civil Rights and Urban Affairs in the U.S. District Court for the District of Columbia. The groups claim GSA violated Section 504 of the Rehabilitation Act, which, among other things, bars discrimination against federal contractors and grantees based solely on a disability.
There are three named plaintiffs who are helping to pursue the lawsuit. They're all contractors who had difficulty registering or re-registering on SAM.gov. Eventually two of the three had to reveal personal information, such as usernames and Social Security numbers, to either friends or GSA help desk employees in order to complete their registrations.
"It would be one thing if [the Environmental Protection Agency's] website wasn't compliant with screen reader software," Matthew Handley, an attorney for the plaintiffs, told Nextgov. "But this is all the more troubling because this is the agency that's supposed to be policing all the other agency websites and it doesn't appear to be policing its own websites."
GSA had not responded by 5 p.m. Thursday to Nextgov emails and phone calls seeking comment.
GSA manages a large portion of civilian federal contracting for other government agencies and publishes best practices guides for federal digital technology. The American Council for the Blind spent about a year urging GSA to make SAM.gov accessible, Handley said. When those changes weren't sufficient, he said, they filed suit.  
"We'd just sort of reached a dead end with them and decided we didn't have any way to push this along without resorting to the court system," he said.
The council hasn't done a full investigation but suspects there may be accessibility issues with other federal contracting websites such as the Federal Business Opportunities site, FBO.gov, Handley said. The organizations hope that drawing attention to SAM.gov's accessibility issues will press GSA and other agencies to fix other websites, he said.
The groups are asking a federal judge to order GSA to make SAM.gov accessible and to reimburse their attorneys' fees. The plaintiffs cannot seek damages under the statute.
GSA has 60 days to formally respond to the lawsuit.
(Image via Ververidis Vasilis/Shutterstock.com)