U.S. Nuclear Security Agency Has 'Failed,' Advisory Panel Says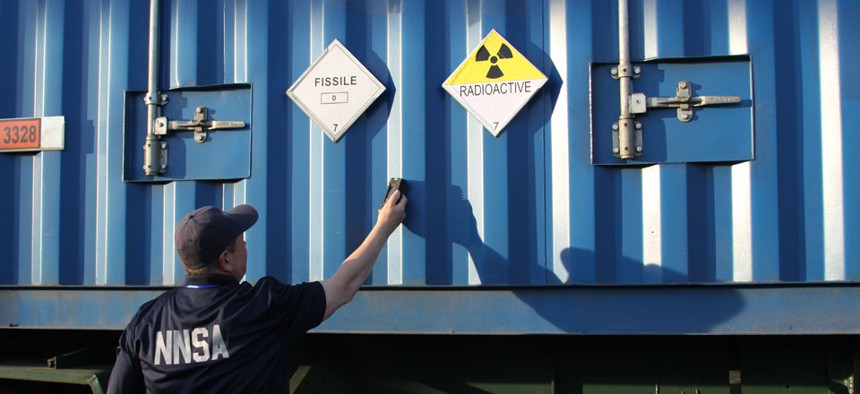 A congressionally mandated panel says a key Energy Department agency has "failed" in its mission to effectively oversee U.S. nuclear-arms operations.
Drastic reforms are crucial to address "systemic" management shortcomings at the National Nuclear Security Administration, according to preliminary findings unveiled on Wednesday by the co-chairs of the Advisory Panel on the Governance of the Nuclear Security Enterprise.
"The unmistakable conclusion of our fact-finding is that, as implemented, the 'NNSA experiment' involving creation of a semiautonomous organization has failed," according to Norm Augustine, who headed the bipartisan group with retired Adm. Richard Mies.
"The current DOE-NNSA structure has not established the effective operational system that Congress intended," Augustine told the House Armed Services Committee in a written summary of the panel's initial conclusions. "This needs to be fixed as a matter of priority, and these fixes will not be simple or quick."
The former officials attributed the National Nuclear Security Administration's history of high-profile security lapses at atomic-complex facilities and soaring cost overruns in major projects to problems that became embedded in the nation's nuclear weapons culture after the end of the Cold War. Congress established the agency in 2000 following the Wen Ho Lee spy scandal at Los Alamos National Laboratory, giving it the responsibility to oversee arms activities that were previously handled by the Energy Department itself.
Today, both organizations contain "too many people [who] can stop mission-essential work for a host of reasons," Mies said in a written statement to the committee, provided for a Wednesday hearing. He added that "those who are responsible for getting the work done often find their decisions ignored or overturned."
He also asserted that a culture of mistrust has developed between NNSA officials and the nuclear-weapons laboratories they oversee.
Augustine said nuclear-arms efforts managed by both the Energy and Defense departments have been bedeviled by "complacency" and a "loss of focus" since the end of the Cold War.
Mies added that "there is no affordable, executable joint DOD-DOE vision, plan, or program for the future of nuclear-weapons capabilities."
The panel's initial findings did not endorse any specific plan for altering oversight of the nuclear-weapons complex. The group -- mandated early last year under a provision of the fiscal 2013 National Defense Authorization Act -- is expected to issue its final report this summer.
Past reform proposals have included a Republican-led push to eliminate Energy Department oversight of NNSA operations and increase contractor independence. Others have advocated a boost in Energy's oversight, or to place the atomic agency under Pentagon control.
Augustine said the president and his administration would shoulder primary responsibility for instituting changes.
"Probably the most important individual under today's organization is the secretary of Energy who, in many cases in the past, did not have a background at all within this arena," he said during the committee question-and-answer session.