Harvard's Looking for a 'Wikipedian in Residence'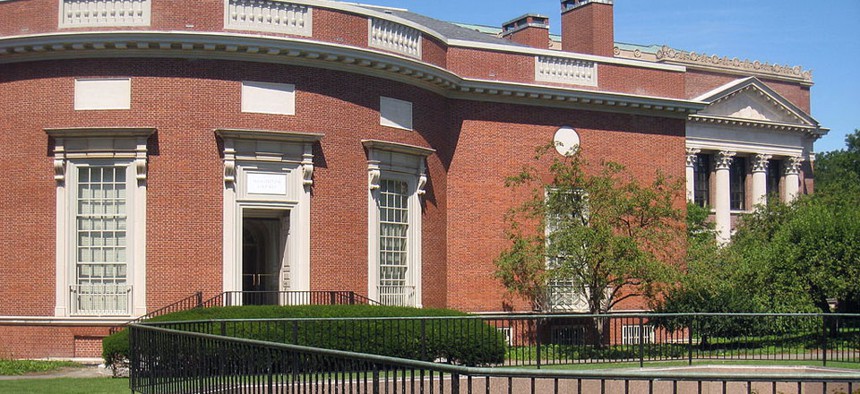 The Houghton Library on the Harvard campus holds the university's collection of rare books. Inside its walls—in addition to objects culled from the old "Treasure Room" of Widener, the school's principal library—you'll find Medieval and Renaissance manuscripts; information about the creation of books; and collections of papers from, among many others, Louisa May Alcott, e.e. cummings, Emily Dickinson, T.S. Eliot, Ralph Waldo Emerson, Margaret Fuller, Henry James, William James, Samuel Johnson, James Joyce, John Keats, Henry Wadsworth Longfellow, Theodore Roosevelt, John Updike, and Gore Vidal. 
The Houghton Library on the Harvard campus is awesome, is what I'm saying. And now it's looking for a little love. From, and for ... Wikipedia. 
Yesterday, John Overholt, Houghton's Curator of Early Modern Books & Manuscripts, posted a job listing. He's hiring a Wikipedian in Residence—someone who can serve as a kind of liaison between Wikipedia and the academic, cultural, and intellectual institutions whose source material its entries rely on. In this case, Harvard. 
The Wikipedian in Residence will, according to the job announcement, help to "expand coverage on Wikipedia of topics relevant to Houghton collections." He or she will add sources for existing Wikipedia pages and create new pages "on notable topics." The person will also "provide appropriate formatting and metadata (and OCR cleanup in the case of texts) to upload public domain content to Wikimedia and Wikisource, and facilitate the use of such materials by other Wikipedia users."
This won't be the first Wikipedia in Residence attempting to narrow the divide between the intellectual resources of the campus of those of the web. The British Museum has had such a person; so has the British Library. So has the Palace of Versailles in France and the Museu Picasso in Spain and the Federal Archives of Switzerland. Here in the States, Wikipedians in Residence have helped seed the crowdsourced encyclopedia with material from the Smithsonian Institution, the Gerald Ford Presidential Library, and the National Archives and Records Administration. 
Overholt explained the reasons for the creation of the Harvard version of the job over email:
We're hiring a Wikipedian in Residence for the same reason that lots of museums and libraries have over the last few years. Wikipedia is such a valuable and widely used information resource--hardly a day goes by when I don't make use of it myself--and we'd like to find ways that we can use Houghton's online resources to enrich that experience for its users. We're digitizing more and more material all the time, and I'd like to make those things more accessible to interested researchers.

I think it's a clear and important extension of Houghton's mission to promote research and teaching with our collections to make them openly accessible and usable, and I'm excited that one of the aspects of the project will be to contribute images of public domain materials to Wikimedia Commons. It's my hope that those images will get widely used and shared. I hope as well that even though this pilot project is only going to scratch the surface of our collections, it might help spark a broader interest in the Wikipedian community in using Houghton materials to enhance Wikipedia entries. 
Houghton is operating, in other words, from the same impulse as its fellow archives: to share its treasures with as wide an audience as possible. Which also often means taking the knowledge that is stored on shelves that are scattered across the world and making it, as Overholt puts it, "openly accessible and usable."