Electronic Warfare Accounts for 5 Percent of the Defense 2015 Science Budget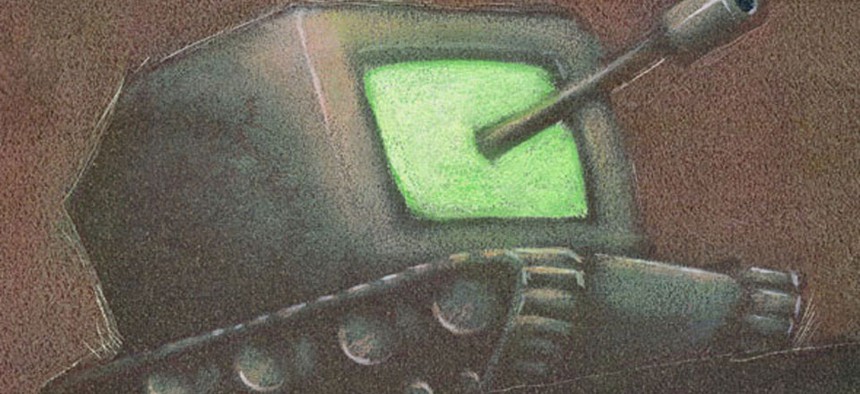 The Defense Department plans to spend roughly five percent -- or $500 million -- of its requested $11.5 billion 2015 science and technology budget to develop advanced electronic warfare systems, the Pentagon's research and engineering chief told lawmakers.
The United States needs to keep pace with the electronic warfare capabilities of potential adversaries, including China, according to Alan Shaffer, acting assistant secretary of Defense for research and engineering. Shaffer was speaking Wednesday before the House Armed Services Committee.  
Shaffer described the concept behind electronic warfare as simple: defense of spectrum and systems used by U.S. forces and attack of spectrum and systems used by enemies. Execution of these concepts will require sophisticated technologies backed by all the services in a project launched in 2012 and dubbed Advanced Components for Electronic Warfare.
ACE has been developing electronic warfare systems based on integrated photonic circuits, millimeter wave and electro-optical and infrared systems and reconfigurable and adaptive radio frequency electronica, Shaffer told the hearing. "As a whole, these technologies should improve simultaneous transmit and receive; expand instantaneous bandwidth; and allow a huge leap ahead in complexity," he said.
Shaffer said a Navy project called Integrated Topside will slash the number of antennas on ships. "This will reduce the number of individual systems with a unique electronic signature and improve ship survivability," Shaffer said.
Rear Adm. Matthew Klunder, chief of Naval Research, told the hearing that "Integrated Topside will enable the Navy to operate freely in the electromagnetic spectrum while denying adversaries' ability to do the same through development of multi-beam, multi-function ultra-wideband apertures and Radio Frequency equipment for all ship classes."
Shaffer also highlighted an Air Force Research Laboratory program's home-on-GPS jam, or HOG-J, which is designed to detect and then destroy enemy GPS jammers with small missiles, as another key electronic warfare project.  "HOG-J has had some preliminary successful tests and could be ready to enter the inventory in two to three years," Shaffer told the hearing.
Mary Miller, Army deputy assistant secretary for research and technology, said in her prepared testimony that the Army has placed additional emphasis on researching jam-resistant GPS systems that can also operate in challenging signal environments. "We will study improvements for high sensitivity GPS receivers that could allow acquisition and tracking in challenging locations such as under triple canopy jungles, in urban areas, and inside buildings," Miller said.
David Walker, Air Force deputy assistant secretary for science, technology and engineering, told the hearing that his service branch has also focused its research on what he called "cognitive electronic warfare….the analytic ability to understand a complex threat environment and determine the best combination of techniques across all available platforms."
Walker said the Air Force is also developing electronic components such as antennas, amplifiers and processors to improve the ability to detect threats with emphasis on advanced processing and software to assess threats in a crowded radio frequency environment. This includes solutions to detect and defeat infrared and optical threats, key electronic warfare technologies highlighted by Shaffer. 
Get the Nextgov iPhone app to keep up with government technology news.