Telework Calculator Launches on Federal Snow Day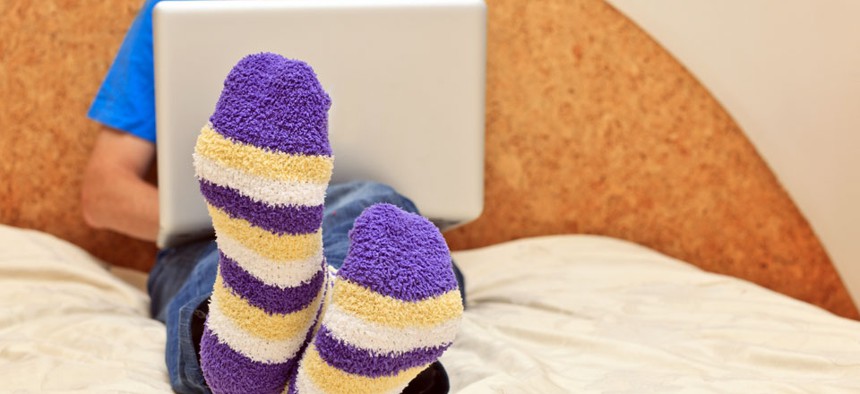 Telework-ready federal employees were required to work on Tuesday after another snowstorm shut down federal offices in the Washington, D.C. region. And now, managers have a new toolkit to help them calculate how much telework saves them on days such as this, when productivity would otherwise be lost.
Also on Tuesday, the Office of Personnel Management and Mobile Work Exchange released a new telework toolkit to help agency managers more effectively measure the cost savings and benefits telework is providing across the agency across several commonly identified value factors: transit subsidies, environmental, continuity of operations, productivity, employee retention and real estate utilities.
The free tool enables agencies to estimate actual or hypothetical return on telework investment by entering in basic information about their employees, agency telework agreements and telework frequency, the number of office closures due to emergencies or inclement weather, employee turnover and transit subsidies. The calculator then draws from industry standard information, such as the average cost per workstation for a federal employee, to calculate savings for each value factor.
Aside from the calculator, the toolkit also includes a new best practices guide developed by OPM and Mobile Work Exchange that looks at 10 agencies leading the way on measuring telework's effectiveness. Aside from seeking advice from the leading agencies, the report emphasizes that agencies can use the knowledge and resources currently available – including the annual Federal Employee Viewpoint Survey – to provide a more accurate snapshot of telework's ROI.
"One of the greatest challenges for federal telework programs is the ability to accurately measure success," said Rebecca Ayers, manager of performance management solutions at OPM, in a statement. "We hope this resource drives future success by serving as a model for agencies in different stages of telework implementation."  
(Image via Nadezhda1906/Shutterstock.com)