Government Data Saves Lives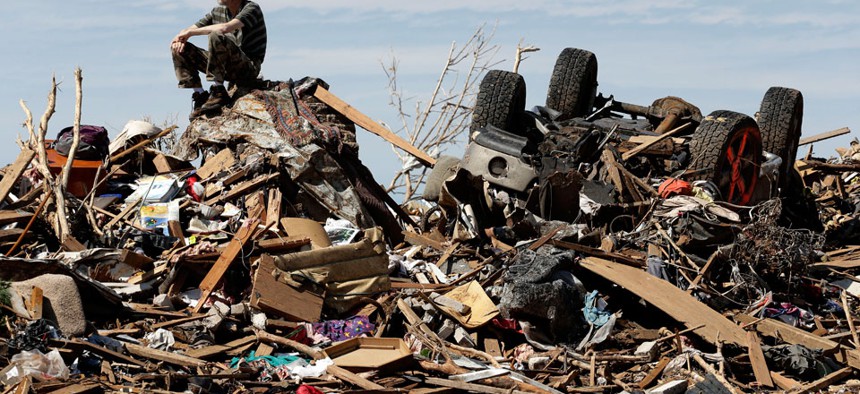 The U.S. Air Force's Civil Air Patrol takes thousands of aerial pictures following a natural disaster, but those images alone often aren't sufficient to assess the full scale of damage to building and communities.
Imagine, though, if those images could be combined with geotagged pictures taken by disaster victims on the ground culled from Twitter, Flickr and Instagram.
That's the dream of a team of short-term government technologists known as Presidential Innovation Fellows who are working with the Federal Emergency Management Agency on the project. The image database known as GeoQ could also be used to assess which roads into a disaster site are most passable, improving response times for emergency workers traveling in and out of disaster zones, said Jackie Kazil, a fellow working on the project.
"We could look at structures to see what it looks like for citizens on the ground and we could make decisions about where to put resources more quickly than we do today," Kazil said.
Kazil outlined the fellow's plans for GeoQ at the White House's Safety DataPalooza on Tuesday, a conference devoted to using open government data to improve citizens' safety. Many of the projects discussed at the conference grew out of the White House's open data initiative, which aims to open up government-gathered data to the public in machine readable formats so developers can build Web and mobile tools with it.
The burgeoning open data market could ultimately grow the economy by up to $3 trillion annually, according to researchers, as companies, nonprofits and independent developers build useful new tools in sectors such as health care and energy.
Agencies announced several new open data initiatives during Tuesday's event. Among them:
The Food and Drug Administration announced plans to open up numerous data sets, including about medication error reports.
The Labor Department announced plans for a "data jam" to use Occupational Safety and Health Administration data to reduce job-related hearing loss.
The Consumer Product Safety Commission announced a Safer Products App Challenge aimed at building tools to raise awareness of reports of product dangers submitted through SaferProducts.gov.
Get the Nextgov iPhone app to keep up with government technology news.