IT Reform Stripped From Defense Bill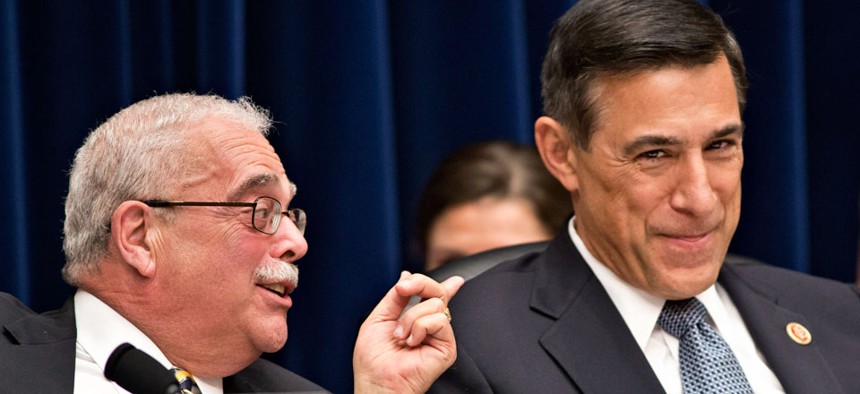 This story has been updated to reflect House passage of the National Defense Authorization Act and to include comment from Rep. Gerry Connolly, D-Va.
The compromise version of a defense policy bill that passed the House on Thursday and is awaiting action in the Senate does not include an amendment that would fundamentally reform how the government buys and manages information technology.
House sponsors of the Federal Information Technology Acquisition Reform Act said on Thursday, however, that they're confident a stand-alone version of the bill will pass the House and Senate next year.
FITARA would give agency chief information officers full authority over technology spending and limit agencies to one person with the CIO title, making that person fully responsible for major technology bungles.
Rep. Gerry Connolly, D-Va., a co-sponsor of the House version of the bill, said he's confident that a stand-alone version of FITARA that passed the House Oversight and Government Reform Committee earlier this year will pass the full House in 2014 and that similar legislation will be introduced on a bipartisan basis in the Senate.
Connolly said FITARA was excluded from the House-Senate conference version of the National Defense Authorization Act largely because negotiators wanted a pared down bill that was assured of passage. They also dropped several more controversial amendments including one related to sexual assault in the military.
The bill's chances of passage were greatly improved by congressional and public outrage over the complicated contracting procedures and poor performance of HealthCare.gov, the Obama administration's Web-based health insurance marketplace, during its first two months online, Connolly said.
"We think this may have spawned something fortuitous and positive in terms of building broad support for a federal acquisition reform bill, which normally wouldn't get this much attention and would not be seen as a very sexy topic," he said.
Connolly's statements were echoed by a spokesman for House Oversight Chairman Rep. Darrell Issa, R-Calif., who said "Chairman Issa is optimistic a stand-alone bill addressing critical IT procurement reforms will move forward in both houses next year."
Issa co-sponsored the House version of FITARA with Connolly.
Sen. Jeanne Shaheen, D-N.H., sponsored the Senate's FITARA amendment. A Shaheen spokeswoman said FITARA remains a bipartisan priority and the senator will look for other avenues to bring it to a vote.
The government spends about $80 billion on IT annually, a substantial portion of which auditors say is lost to waste, duplication and inefficiency or could be saved by switching to updated systems that would better serve federal employees and taxpayers.
The proposed reform act would also create a collection of Assisted Acquisition Centers of Excellence that agencies may consult regarding particular categories of IT purchases and a Federal Infrastructure and Common Application Collaboration Center that would serve as a "tiger team" to assist agencies with tricky technology acquisitions
One criticism of FITARA was that its rules regarding CIO authority did not extend to the Defense Department and military services, which would have required a more complex committee process to pass the legislation.
Connolly said on Thursday the growing interest in IT acquisition reform makes it possible the Defense Department could be looped into those provisions either by expanding the FITARA bill itself or through new legislation.
In addition to raised public interest in IT reform prompted by HealthCare.gov's troubles, he also cited a recent move by the Air Force to expand its CIO's authority.
Connolly also said he hopes HealthCare.gov's difficulties will prompt FITARA support from the White House, which has been lukewarm to the legislation. 
Federal CIO Steven VanRoekel told Congress he does not believe new legislation is necessary to make government IT spending more efficient and that giving agency CIOs budget authority is less important than offering them a "seat at the table" when major spending decisions are made.