Army Plans to Buy 193,279 Rifleman Radios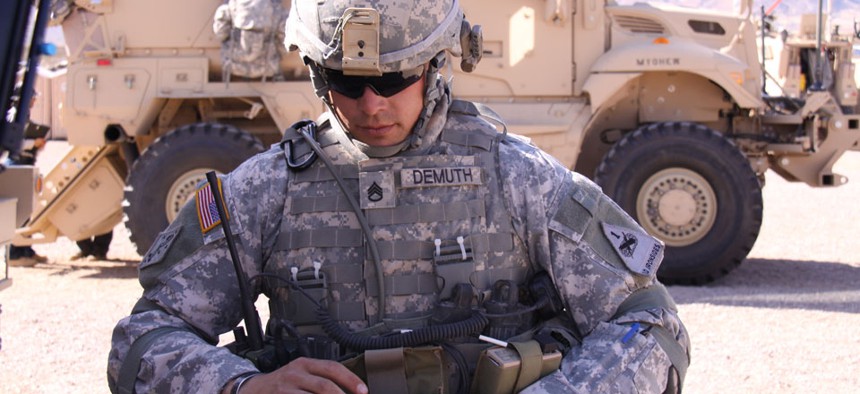 The Army plans to buy 193,279 Rifleman Radios to provide communications at the lowest level of the command and control chains, the infantry squad level.
The Army issued a draft request for proposals for the lightweight Rifleman Radios last Friday, and the service's Program Executive Office for Command, Control and Communications-Tactical, or PEO C3T, said it anticipates a contract award sometime in fiscal 2014.
General Dynamics and Thales Communications have supplied the Army with 19,327 Rifleman Radios under the now-defunct Joint Tactical Radio System program through low-rate initial production orders, and the service now wants to open up the full production contract to competition.
"The Rifleman Radio is a key component of enabling our soldiers from the small unit level down to the individual dismounted Soldier -- especially in austere environments," said Col. Russ Wygal, the Army's project manager for tactical radios. "We absolutely encourage all vendors to participate and look forward to seeing the new and innovative ways they can meet this vital network requirement."
PEO C3T said the competition for the production Rifleman Radio contract will result in just one vendor for the five year program.
"This approach was developed based on the current and future fiscal environment and the government's desire to minimize overall program costs, while increasing capability for the soldier," PEO C3T said. "Procuring the radios from a single vendor allows the Army to achieve lower costs per unit, based on economies of scale, as well as lower life cycle costs related to fielding, training, maintaining and sustaining one form factor of radio instead of several different models."
Harris ITT Exelis, General Dynamics and Thales are all expected to bid on the Rifleman Radio procurement. The Army did not put a value on the buy, but industry sources pegged its value in multiples of $100 million.
The Army said it will run a follow-on competition for a next-generation radio in three to five years.
The Army wants to buy production Rifleman Radios that operate in the same frequency
range as radios manufactured by General Dynamics and Thales,  225 MHz–450 MHz, 1250 MHz–1390MHz, 1755 MHz–1850 MHz and weigh no more than 2.7 pounds with one battery and antenna, slightly heavier than the 2-pound General Dynamics and Thales radios.
The Rifleman Radio uses GPS to locate individual soldiers in a squad,  and the production radios, just like the radios manufactured by General Dynamics, should use commercial GPS chips and signals, rather than more secure military chips and signals, the Army said.
Jules McNeff, who spent 20 years in the Air Force working on GPS and is now vice-president for strategy & programs at Overlook Systems Technologies, Inc., said last year that using commercial chips exposes Rifleman Radios to jamming.
PEO C3T plans to hold an industry conference for the Rifleman Radio procurement on September 2013 at Aberdeen Proving Ground, Md.