Drones Approved for Commercial Flights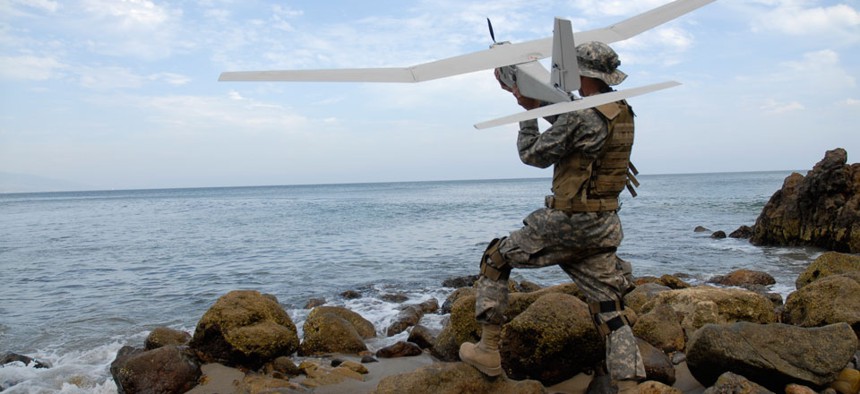 The Federal Aviation Administration has certified two small drones for commercial use, heralding the move as "one giant leap for unmanned-kind" that will lead to the first approved commercial flight of an unmanned air system off the Alaska coast later this summer.
The 2012 FAA Modernization and Reform Act defined Arctic operational areas and included mandates for Arctic UAS commercial operations. Until now obtaining an experimental airworthiness certificate – which specifically excludes commercial operations – was the only way the private sector could operate UAS in the nation's airspace, the FAA said.
In an announcement Friday, the agency said it type-certified the Scan Eagle X200, manufactured by Boeing subsidiary Insitu, and the AeroVironment PUMA under a restricted category that allows aerial surveillance. The catapult-launched Scan Eagle, has a maximum weight of 44 pounds, a wingspan of just more than 10 feet and a length of 4.5 feet; it can stay in the air for 28 hours without refueling. The AeroVironment PUMA, a hand-launched drone that weighs 13 pounds, has a wingspan of just over nine feet and a fuselage of four feet. 
The agency said previous military acceptance of the Scan Eagle and PUMA UAS designs allowed it to issue the restricted category type certificates. The Navy operates the Scan Eagle and the Air Force, Army, Marines and the Special Operations Command fly the PUMA.
A major energy company plans to fly the Scan Eagle off the Alaskan coast in international waters starting in August, the FAA said, without identifying the company. Plans for the initial ship-launched flights include surveys of ocean ice floes and migrating whales in Arctic oil exploration areas.
The PUMA is expected to support emergency response crews for oil spill monitoring and wildlife surveillance over the Beaufort Sea, but the agency again did not identify the operator.
The certification of the Scan Eagle and the PUMA could be the start of unbridled use of drones in the United States, according to Rep. Ted Poe, R-Texas, who in February predicted that by 2030, "30,000 drones will be cruising American skies – looking, observing, filming, and hovering over America."
On Feb 4 the FAA kicked off a process to set up six test sites to conduct drone research and development toward a goal of widespread use of UAS by law enforcement agencies, universities and other organizations in domestic airspace by 2015.