Video: The Daily Show's Rules For Politicians on Twitter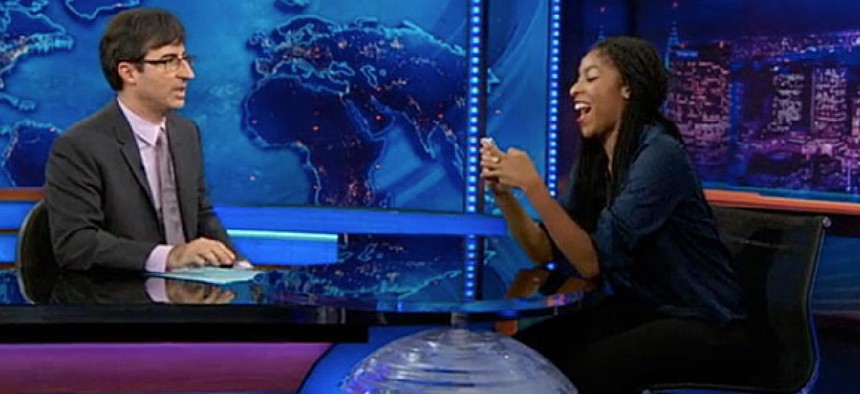 Start of Brightcove Player By use of this code snippet, I agree to the Brightcove Publisher T and C found at https://accounts.brightcove.com/en/terms-and-conditions/.
Former Secretary of State, Senator and First Lady Hillary Clinton joined Twitter this week , with the news media taking note across the United States . Thursday night, "The Daily Show" mocked the reaction to Clinton's decision to join Twitter, with host John Oliver calling it "unnewsworthy." Like many , Oliver noted Clinton's Twitter bio ends with "TBD," fueling speculation about a possible presidential run.
Oliver brought the show's social media correspondent Jessica Williams onto the set to explain Twitter to older viewers -- and Oliver himself -- and give politicians five easy rules for Twitter use. Bringing up the scandal surrounding Anthony Weiner, Williams emphasized her first rule twice: "Don't tweet your junk." Told that it may not be a problem for Clinton, Williams pressed on, saying "It's still worth saying." Other rules suggested included "Don't be boring" (in regards to Newt Gingrich's tweeting about dogs ) and "don't be weird" (Sen. Chuck Grassley " butt-tweeting random letters ").
After Oliver noted the rough edge of some Twitter users, Williams finished the segment warning Clinton of the same thing. "Hillary, girl," Williams warned, "being on Twitter is like having 100 Benghazi hearings every single day."