The Government's Data Center Count Has Doubled Since 2011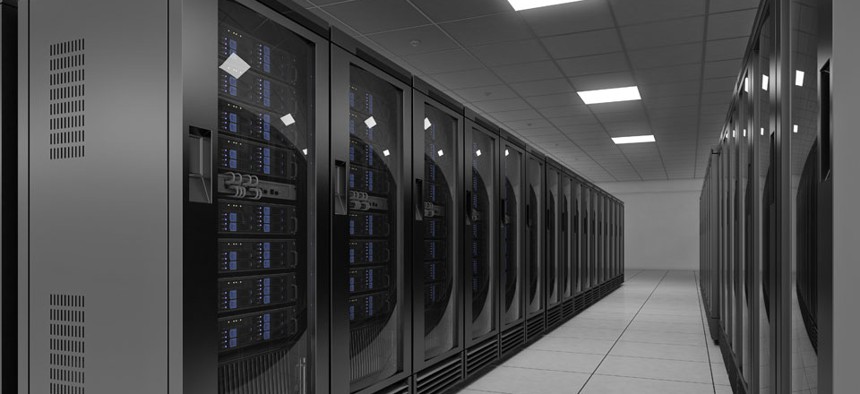 The current tally of data centers managed by the federal government is north of 6,000, up from about 3,000 a few months ago, according to an Office of Management and Budget spokeswoman.
The apparent doubling of the government's data center portfolio is due to a 2011 policy shift that drastically expanded what the government counts as a data center and to more rigorous agency inventories, as opposed to an increase in the actual number of data centers, spokeswoman Ari Isaacman Astles said.
The government has been struggling to reduce its data center portfolio since 2010 as part of a larger effort to make government computing cheaper and more efficient. Officials have estimated the government can ultimately save between $3 billion and $5 billion by shifting to more efficient, virtualized data centers plus an additional $5 billion annually by shifting to computer clouds.
The government spends about $80 billion annually on IT.
Prior to October 2011, OMB defined a government data center as a dedicated space for computer servers and other equipment that was over 500 square feet. Federal Chief Information Officer Steven VanRoekel expanded that definition to include much smaller server rooms and closets.
At the time, VanRoekel estimated the new definition might raise the government's data center count from 2,100 to about 2,800. That figure had climbed to 3,100 total data centers by December 2011.
The additional 3,000 data centers were first disclosed by David Powner, the Government Accountability Office's IT specialist, in June 11 testimony before the Senate Homeland Security and Governmental Affairs Committee.
"We are three years into the data center consolidation effort and the government still does not know how many centers it has," Powner told committee members. "Just last week we learned that about an additional 3,000 data centers are now being reported, bringing the government's total north of 6,000 data centers."
It's not clear when agencies first reported the additional data centers to OMB. The office verified the 3,000 additional data centers figure in an email to Nextgov Friday.
In March, OMB combined the data center consolidation initiative with PortfolioStat, a program to streamline how the government buys IT commodities such as wireless Internet, data storage and mobile phone services. One effect of the consolidated program was to deemphasize the total number of data centers the government closes and to focus instead on energy and cost savings from consolidation.
The new plan requires agencies to shutter 40 percent or more of what it determines are "non-core data centers" and to reduce the cost and energy consumption of running the remaining "core data centers."
"Through this work, the administration has made significant progress in improving the efficiency and effectiveness of our data centers and will continue to work to make progress in this area in the months and years ahead," Astles said.
The government has shuttered about 320 data centers since the beginning of its consolidation initiative.
Official savings from the data center consolidation effort have been minimal so far and the government is unlikely to meet its initial goal of saving $3 billion from the initiative by 2015, Powner testified in May.
VanRoekel has said total savings are likely to increase once all agencies have reported their likely savings. He has also said savings are likely to increase over time in a hockey stick pattern as more efficiency initiatives take effect. 
(Image via Sashkin/Shutterstock.com)