Study Points to Faster Acting Anthrax Vaccine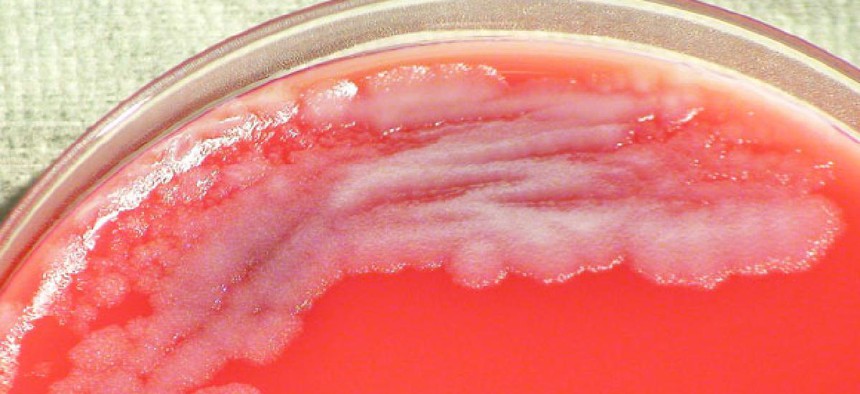 A new anthrax vaccine additive could help to guard people exposed to the lethal bacteria with fewer shots than a widely used formulation delivered in five doses over a year and a half, according to a new study made public on Friday.
Vaccine with the "CPG 7909" adjuvant prompted a stronger immune response in two doses than unaugmented treatment, according to the findings published in the journal Vaccine. Developers hope the research will yield a vaccine capable of conferring protection faster and in fewer injections to individuals exposed to anthrax, an agent long thought by experts to be a likely tool of bioterrorism.
The paper says scientists plan to further examine the additive's role in producing immune reactions and side effects, but it neither identifies a schedule for new research nor specifies whether the augmented vaccine might be administered outside "a post-exposure setting."
Each of four test groups received two "NuThrax" doses incorporating a different level of the experimental additive within the existing BioThrax vaccine. Additional subjects received either placebo shots or the standard version of BioThrax routinely administered to U.S. military personnel and held in the Strategic National Stockpile for general use in an anthrax outbreak.
Vaccinations incorporating any level of CPG 7909 produced stronger "toxin-neutralizing antibody responses" in two doses than vaccine without the adjuvant, but immune reactions evened out after four shots, according to the report. "Differences among the four [experimental vaccine] groups were not statistically significant," says an abstract of the report.
Immune responses from the augmented treatment reached their maximum after four weeks, seven days sooner than vaccine without the additive. However, recipients of the experimental vaccination also experienced temporary low counts of white blood cells involved in fighting infections, in part by helping to produce immune antibodies.
The "immunostimulatory" additive binds to a specific protein, setting off a chain reaction in the body's system for responding to disease threats.
The trial included 105 participants between 15 and 50 years old. No test subjects were exposed to anthrax in the study.
BioThrax manufacturer Emergent Biosolutions announced the start of a new phase 2 clinical study in January. The research team included experts from four other companies.