Pentagon Says 20 Vendors Can Meet its Electronic Health Record Needs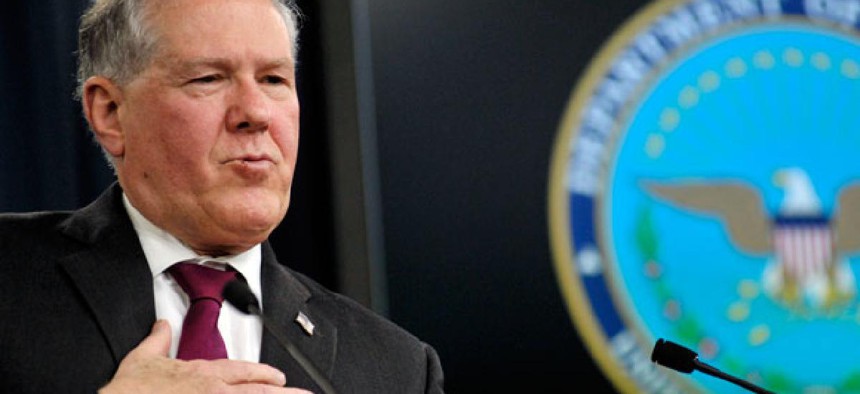 The Defense Department has found 20 commercial software vendors capable of modernizing its electronic health record system, Frank Kendall, undersecretary of Defense for acquisition, technology and logistics, told reporters at the Pentagon today.
Yesterday, Defense Secretary Chuck Hagel backed the use of commercial software in a memo to Kendall. Hagel said he supported competitive procurements for undefined "core" EHR commercial software systems. Kendall said these procurements will provide a modernized Defense health record to replace the department's existing Armed Forces Health Longitudinal Technology Application system, known as AHLTA.
Kendall said the department's market research identified three out of the 20 commercial vendors who could provide versions of the Veterans Affairs Department's electronic health record, the Veterans Health Information Systems and Technology Architecture, known as VistA. While acknowledging VistA could be a candidate for the Defense EHR, Kendall emphasized throughout his briefing the Pentagon wants a modern, "smart" commercial EHR that meets its needs.
He said Defense will take steps to ensure that it does not get locked into proprietary software from one vendor. President Obama has backed open standards for an integrated electronic health record system to serve both Defense and VA since his first term. In March, J. Michael Gilmore, the Pentagon's director of operational test and evaluation, blasted the commercial software approach long favored by department officials as "manifestly inconsistent" with that open standards mandate.
Gilmore said in March that the Pentagon preference to purchase proprietary software for core health management functions "will be an expensive, complete replacement that may or may not succeed and that may or may not result in a system that adheres to open standards."
Kendall said today that Defense will have developed a "seamless" and integrated electronic health records system with VA by the end of the year, but he provided few details.
Kendall also did not provide cost estimates or a timeline for development of the Defense EHR, but did say cost would be a key determinant of the modernization project.