HHS Bets on New Model to Fund Biodefense Drug Development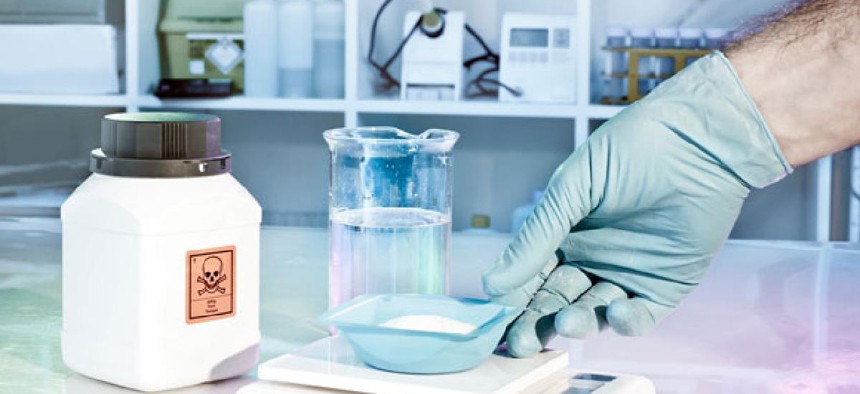 The Obama administration on Wednesday said it is putting down $40 million on a first-of-its-kind plan for a major drug maker to pursue an assortment of experimental bioterrorism antibiotics, drawing from a single funding pool as it studies newly discovered formulations and abandons any found to show little promise.
The approach is more flexible than the government's traditional strategy of funding specific drugs with individual contracts and "balances the business risk" for Washington and GlaxoSmithKline, the Health and Human Services Department said.
"Supporting development of multiple drug candidates simultaneously increases the likelihood that one or more will advance to the level at which the company can apply for U.S. Food and Drug Administration approval of the drug," according to an HHS press release. The department said the effort might yield treatments suitable for uses more routine than the dispersal of lethal bacteria by terrorists, potentially reducing the need for pricey federal stockpiling of new medicines.
The science of antibiotic development is unusually risky and complex, and "there has been a significant reduction in antibiotic research over the past 15 to 20 years," GlaxoSmithKline spokeswoman Melinda Stubbee told Global Security Newswire on Thursday. "The existing investment model for antibiotics is challenging and doesn't adequately reward innovation in antibiotic research," she stated by e-mail.
The initial funding would cover 18 months and allow GlaxoSmithKline in part to pursue one developmental antibiotic already seen to be effective in fighting potential bioterror agents anthrax, plague and tularemia in animals, according to the HHS statement. Stubbee said the drug remains in a "very early" development phase and there is no timeline for it to complete the testing process and potentially go to market. She noted, though, that new antibiotics require an average of about a decade to reach consumers.
Decisions on which other prospective treatments will receive development funds will be made by a board of specialists from the company and the Health and Human Services Department's Biomedical Advanced Research and Development Authority. The North Carolina-based pharmaceutical firm declined to estimate how many drug development projects could ultimately receive financing under the plan.
The deal could provide up to $200 million over five years. Health and Human Services did not specify if it could pursue new deals based on the same approach, but said it is seeking more proposals for potential drugs effective against a wide variety of pathogens.
(Image via anyaivanova/Shutterstock.com)