Experimental Drug Could Treat Child Bioterrorism Victims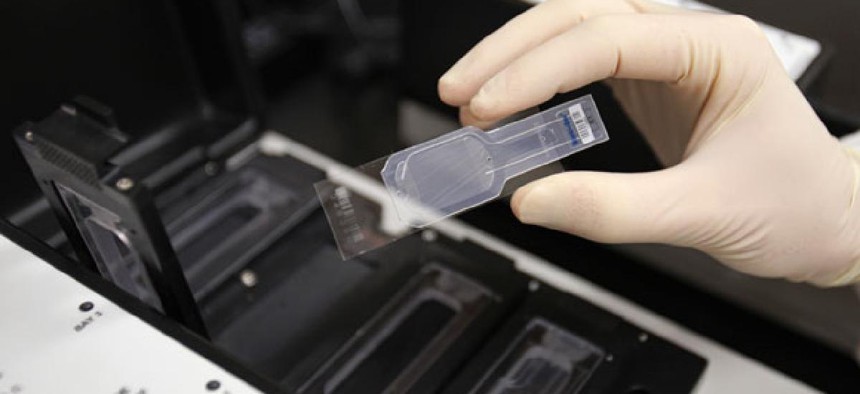 The United States on Friday announced a $17.7 million push to secure federal licensure of an experimental antibiotic officials believe could treat young victims of anthrax or tularemia bacteria.
Announcement of the two-year research and development deal with a North Carolina pharmaceutical firm came weeks after congressional investigators warned that minors could have only limited access to 40 percent of the medicines stockpiled for use in a chemical, biological, radiological or nuclear strike. The Centers for Disease Control and Prevention has warned an attacker could disperse either anthrax or tularemia into the air in breathable form, producing potentially deadly results.
"The needs of special populations including children are paramount in public health emergency preparedness," said Robin Robinson, who heads the Health and Human Services Department's Biomedical Advanced Research and Development Authority. "The development of this new antibiotic could help address a gap in our nation's preparedness and could bolster clinicians' ability to treat drug-resistant bacterial infections," he added in an HHS statement.
The medicine, called solithromycin, falls within a category of drugs deemed particularly safe for children, though it could have "broad utility in all age groups," Cempra Pharmaceuticals CEO Prabhavathi Fernandes said in a press release issued on Tuesday.
The drug has been under development since 2006 and can be taken by mouth, a key feature "for administering antibiotics to kids," Fernandes told Global Security Newswire. The drug acts against bacteria now resistant to other antibiotics, and it "reaches concentrations needed to treat infections in the tissues as well as intracellularly where some pathogens hide," she stated by e-mail.
Cempra said initial funding under the deal would support phase 1 tests of the drug in children, and Fernandes indicated that "other pediatric studies are expected to follow." Phase 1 trials administer drugs to healthy participants to gather safety information such as possible side effects; no humans would be exposed to a bioterrorism agent.
Health and Human Services said animal trials of the medicine's effectiveness against anthrax and tularemia could support an eventual bid for licensing from the Food and Drug Administration while also supplying "additional treatment options for clinicians' use in a public health emergency."
Cempra declined to state when it plans to file for FDA approval. The company could receive up to $58 million if the contract is extended for a full five years, but the firm refused to say whether the initial $17.7 million award would cover any animal tests involving anthrax or tularemia.
"The full funding, if received, will support phase 1, phase 2, and the majority of the phase 2/3 studies on a pediatric oral suspension, oral capsules and the intravenous formulation" for lung infections acquired outside of hospitals, according the company's press release. "The contract should also fund nonhuman primate pilot studies of activity against biothreat pathogens, anthrax and tularemia, placing Cempra's lead product on the pathway to other indications."
Anthrax and tularemia are both seen as likely agents for an act of bioterrorism. The federal government has spent billions of dollars since the Sept. 11 attacks and the anthrax mailings that followed to prepare the nation for such an act.