East Coast 'Well Protected' Without Proposed Antimissile Site, Official Says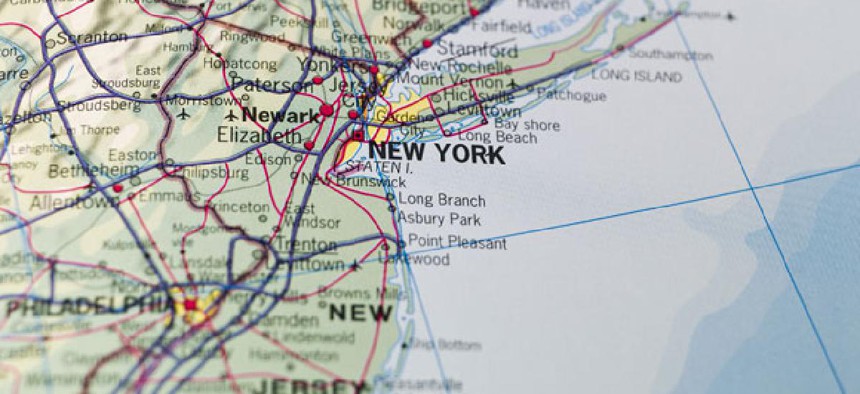 The eastern United States is already "well protected" against long-range missile threats without a new interceptor site pushed by some GOP lawmakers, a senior Defense Department official told lawmakers.
The United States is covered by 30 silo-based ballistic missile interceptors at two existing locations, and 14 more are slated for deployment at Alaska's Fort Greely. That deployment would bolster defenses against "anything from North Korea as well as anything from Iran" in coming years, Madelyn Creedon, assistant Defense secretary for global affairs, said Thursday.
Creedon was discussing the nation's readiness to fend off a potential Iranian ICBM threat. The Pentagon warned in January that adequate foreign backing might enable Iran by 2015 to test an ICBM capable of reaching the United States, and that alterations to Iranian missiles could allow them to accommodate nuclear warheads. Tehran has consistently denied pursuing an atomic arms capacity.
The fiscal 2013 National Defense Authorization Act requires the Pentagon to review options for establishing a third Ground-based Midcourse Defense interceptor site to augment the existing installations in Alaska and California. No fewer than two potential locations must be on the East Coast.
The Pentagon's Missile Defense Agency is developing means to choose a number of potential placements for an East Coast interceptor site and would complete environmental impact assessments for at least three locations, Creedon added in response to a question from Senate Armed Services Strategic Forces Subcommittee Chairman Mark Udall (D-Colo.).
"Should there be a decision at some point that we do need an East Coast missile defense site, this will allow an acceleration of the time that we would need one. But there are other options and we are well protected" by existing facilities, she said.
The head of the Missile Defense Agency on Wednesday dismissed a Republican proposal to provide $250 million in additional fiscal 2014 funding to examine potential East Coast antimissile sites. The fiscal 2013 authorization law made $100 million available for the study.
Speaking on Thursday, Vice Adm. James Syring said candidate locations now number in the "hundreds" and the department is deciding on roughly 10 to 12 "major factors" it would use in determining which to rule out. Hinting at one possible consideration, he suggested sites could receive red flags for any populated areas close to where rocket boosters might fall from launching interceptors.
The elimination process would extend "through the summer," and announcement of the finalists would come before the end of the year, he said.
When asked about an Obama administration proposal to provide Russia with additional technical information on U.S. antimissile systems, Syring said his office "has not declassified any information to give to Russia."
The Obama administration has hoped that sharing such data would quell Moscow's fears that missile interceptors to be deployed in Europe would threaten Russia's strategic missile forces. Creedon indicated there would be no sharing of classified data, which has been a concern for GOP lawmakers.
"We have no ability to share any classified information with Russia nor any intent to share any classified information with Russia," she said.