Navy Plans to Beef Up Cyber Workforce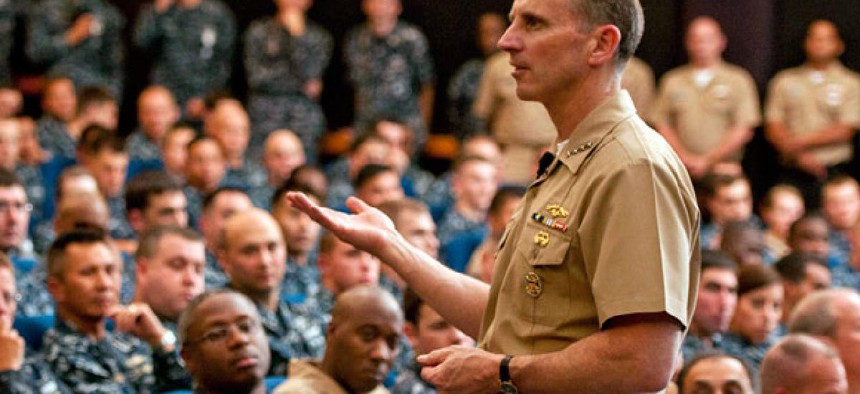 Cyber, shipboard networks and unmanned systems stand out as key Navy technology investments in 2014 and for the next several years, top service officials told a hearing of the House Armed Services Committee on Tuesday.
The Navy requested an operations budget of $22.6 million for its Fleet Cyber Command in 2014, up $2.3 million from 2013. Adm. Jonathan Greenert, chief of naval operations, told the hearing that the service plans to man and train a cyber force increase of about 1,000 personnel by 2016, in addition to the 800 billets realigned in 2013 from other specialties.
Greenert said these cyber specialists will help form 40 computer defense, attack and exploitation teams at the U.S. Cyber Command. The Cyber Command plans to field 100 cyber teams by 2015.
Navy Secretary Ray Mabus told the hearing the service also needs "an equally sophisticated officer corps" to lead cyber forces, backed up by plans to "make the construction of a cybersecurity studies facility at the U.S. Naval Academy a top priority in developing the fiscal 2015 military construction program."
Greenert said the Navy needs to develop what he termed good cyber "hygiene" by reducing  the number of networks it operates and developing standard networks, an effort supported by the shipboard Consolidated Afloat Networks or CANES project.
The Navy requested a $340.1 million budget for CANES in 2014, down $1 million from 2013, and Greenert said this will help the service equip new amphibious ships used to transport Marine forces. He said CANES will only address part of the need to develop improved communications systems. "We are analyzing the need for upgraded communications on our older amphibious ships and will correct those shortfalls in the near-term," he said, without providing details.
Mabus said unmanned systems will continue to be key military platforms at sea and ashore and said the Navy and Marines have made significant movement in drone development, including using unmanned MQ-8B Firescout helicopters to support sea and land Marine operations in Afghanistan. The Navy requested $61 million to buy one additional MQ-8B in its 2014 budget.
The service also requested $52 million for its version of the Air Force long-range Global Hawk unmanned aerial vehicle, the MQ-4C Triton, which Mabus said will "play a central role in building maritime domain awareness and prosecuting surface targets."