VA Comes Under Fire As Claims Backlog Tops 900,000 Again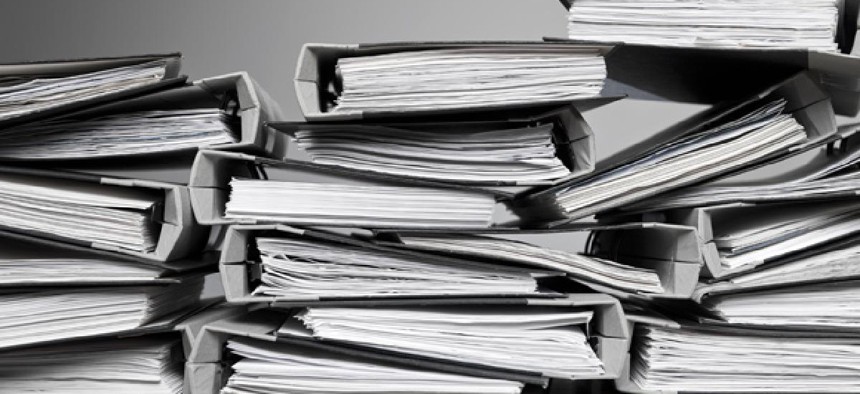 The Veterans Affairs Department's backlog of disability claims passed the 900,000 mark this week, amid growing anger over the department's inability to make a dent in the pile.
On Monday VA reported its disability claims backlog hit 903,286, an increase of about 8 percent, or 7,448 claims, from the previous week. Seventy percent of the claims in the current backlog, or 633,589 claims, had been sitting more than 125 days.
VA officials last week told House lawmakers that the department is taking steps to speed processing, such as setting up "express lanes" at regional offices to handle some straightforward claims. But, the claims processing workload has increased, the officials said.
Critics argue VA could do a better job handling the influx. In a March 25 article keyed to the 10th anniversary of the start of the war in Iraq, titled "Ten Years After: A National Disgrace," Time magazine columnist Joe Klein blasted VA Secretary Eric Shinseki for the claims backlog and called for his resignation.
Klein wrote that Shinseki is "universally regarded as an exemplary man … [but] even his supporters say he's old-school military, stoic, wary of the press. And his detractors, who are legion among the generation of Iraq and Afghanistan veterans, say he lacks the creativity and leadership skills to deal with Veterans Affairs' mind-boggling problems, like the 900,000 unprocessed disability cases."
Klein then pointed out that Shinseki "has been in office for four years, and the problems our veterans face are worse than ever -- and about to get still worse as the military demobilizes tens of thousands of additional troops in the next few years. It is time for him to step down."
Last Tuesday, Rep. Jeff Miller, R-Fla., chairman of the House Veterans' Affairs Committee, suggested in strong language that Allison Hickey, VA's undersecretary for benefits, also resign due to the growing backlog of disability claims. "I think she is overwhelmed, and I would call for a replacement," Miller said.
Iraq and Afghanistan Veterans of America members joined the assault on the backlog during their annual "Storm the Hill" campaign last week, attracting a publicity blitz with coverage by the Associated Press, Reuters, NBC, CNN and The Washington Post. In an opinion piece, Paul Rieckhoff, IAVA executive director and an Iraq War veteran, charged VA has been "shamefully slow to help vets" and added, "If you are a young vet who's filed a claim with the Department of Veterans Affairs in New York or Los Angeles, you will wait an average of 600 days. And you're not alone."
Rieckhoff also took his complaints about the backlog to the White House last week in a meeting with chief of staff Denis McDonough. Rieckhoff told the chief of staff, "We need to hear it from the president" as to whether Shinseki should remain as VA secretary, NBC reported.
Klein in his column also argued that veterans of Afghanistan and Iraq should receive priority for their claims ahead of "a Vietnam veteran who wants increased payments because his back is deteriorating with age." An Iraq and Afghanistan veteran who also worked in the VA called this "incredibly divisive" as it pits one generation of veterans against another.
The former VA employee and Iraq and Afghanistan veteran said the claims backlog could continue to increase until VA completes deployment of its paperless Veterans Benefits Management System. Shinseki has repeatedly said the new system will eliminate the claims backlog by 2015.
(Image via Gemenacom/Shutterstock.com)