Sequestration Furloughs Will Severely Delay Air Travel, Transportation Secretary Says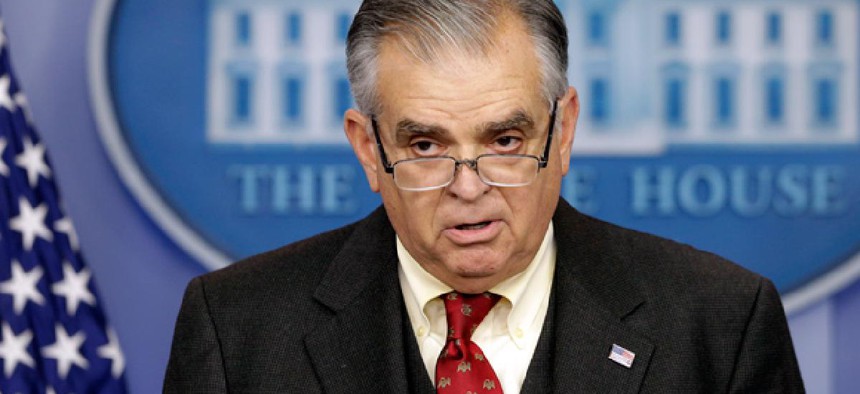 This story has been updated with additional comment.
Transportation Secretary Ray LaHood said furloughs from sequestration would cause severe air travel delays at airports throughout the country.
Speaking to White House reporters on Friday, LaHood said across-the-board cuts from sequestration could result in 90-minute delays during peak travel times for flights to major cities -- such as New York, Chicago and San Francisco – due to fewer air traffic controllers and shuttered control towers.
"This will be very painful for the flying public," LaHood said.
LaHood and Federal Aviation Administration head Michael Huerta sent a letter to airline industry groups and unions on Friday saying that sequestration would force the agency to cut its spending by an immediate $600 million and furlough all 47,000 workers for one-to-two days per pay period. Air traffic control towers at 100 airports would be closed, and midnight shifts at many smaller airports would be dropped.
"We are aware that these service reductions will adversely affect commercial, corporate and general aviation operators," the letter said.
LaHood told reporters that the public could expect to feel the full effects of sequestration around April 1, and that the department was busy assessing the impact that sequestration would have on operations. When asked if the department had made plans to resume normal operations if sequestration was averted, LaHood said that they "haven't had a lot of discussion at this point."
LaHood said Transportation officials would meet with representatives from the National Air Traffic Controllers Association -- the union representing some FAA workers -- to discuss the implications sequestration would have on employees.
An FAA spokeswoman confirmed the meeting with NATCA.
In a statement, the union said the cuts would negatively affect both the nation's security and economy.
"The fact that they will not just be furloughing critical FAA personnel but closing air traffic control towers means the system will be even more compromised than anticipated," said Paul Rinaldi, the union's president." We share the FAA's commitment to preserving the safety of the system despite these draconian cuts. Safety is always the top priority of air traffic controllers, but the reality is this -- safety will be preserved at the expense of operations across the country."
Rinaldi added: "Local economies will be diminished, military exercises will be cancelled and jobs will be lost. There's no telling how long these effects will be felt because many of these service reductions may not be reversed."
The Transportation secretary -- a former House Republican from Illinois -- called on Congress to come together to reach an alternative deal, especially the lawmakers from his side of the aisle.
"What I'm trying to do is wake up members of Congress on the Republican side," LaHood said. The White House is  "hoping that maybe I can influence some of the people in my own party." 
At least three Republican lawmakers were not influenced by LaHood's warnings about the effects of sequestration on the FAA. "Before jumping to the conclusion that furloughs must be implemented, the administration and the agency need to sharpen their pencils and consider all the options," Republican Sen. John Thune of South Dakota and Reps. Bill Shuster of Pennsylvania and Frank LoBiondo of New Jersey said in a joint statement.  
"Prematurely outlining the potential impacts before identifying other savings is not helpful," they said. "The agency is well positioned to absorb spending reductions without compromising the safety or efficiency of the National Airspace System."
---
Eric Katz contributed to this report.