U.S. lawmaker demands action to secure alleged Syrian uranium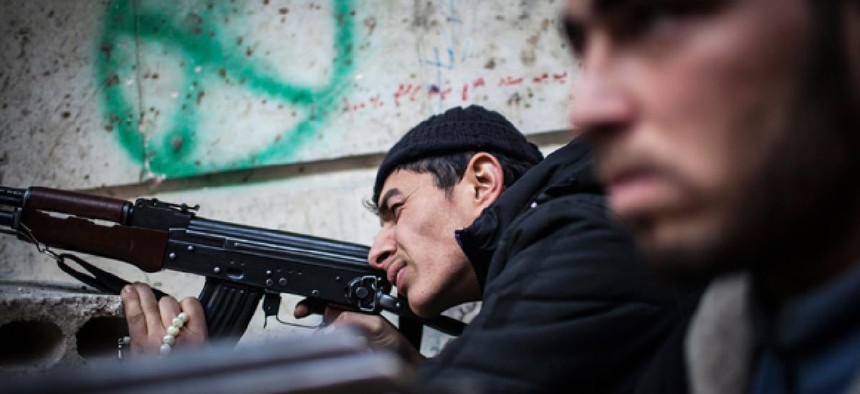 A top Republican lawmaker on Monday pressed for international action to secure a possible stockpile of uranium in civil war-torn Syria.
Experts have suggested the Bashar Assad regime might have amassed up to 50 metric tons of the substance as fuel for a suspected plutonium production reactor leveled by a 2007 Israeli aerial bombardment prior to completion.
The Syrian government has insisted the destroyed Dair Alzour facility was a military installation with no atomic purpose, even though U.N. inspectors in 2008 uncovered indications of natural uranium introduced at the site by humans. Damascus has rejected International Atomic Energy Agency requests to further examine the grounds of the razed location.
News reports suggest material previously collected for the plant could fall "into the hands of extremist groups that are present in the region," Representative Ileana Ros-Lehtinen (Fla.) said in astatement. "If these reports are true, it should be of paramount importance for the U.S. and responsible nations to work to ensure this nuclear material is secured."
The former House Foreign Affairs Committee chairwoman urged the International Atomic Energy Agency to conduct "an emergency meeting" on Syria, and she pressed Damascus to provide the Vienna, Austria-based organization with "immediate access to all nuclear facilities and stockpiles so that they may be protected and sealed."
Any rejection of the requests "must be met with immediate, comprehensive and painful sanctions by the U.S., European Union, and the U.N. Security Council," she stated. "Russia and China must stop giving the Assad regime a pass and act responsibly."
U.S. State Department offices in Washington and Vienna did not respond by press time to requests for comment on Ros-Lehtinen's demands. However, Foggy Bottom last week acknowledged the allegations over Syrian uranium without directly addressing their veracity.
"We're obviously aware of these reports regarding the presence of those kinds of materials that could be used for WMD capability," spokeswoman Victoria Nuland told reporters on Friday. "We will continue to work with the IAEA, and we hold the Syrian regime responsible for its management of any" such material.
Asked if the United States is capable of independently verifying the presence of a Syrian uranium stockpile, Nuland refused to "get into intelligence information."
"The Syrian regime's noncompliance remains a matter of serious concern for the international community and something that we watch very closely," she said.
In comments reported last week, a number of government insiders suggested Iran could seize uranium from Syria to secretly enrich the material for use in a nuclear weapon. Tehran insists it is only refining uranium for nonmilitary use, but Washington and other capitals hold the assertion in serious doubt.
"Syria is almost certainly in possession of good quality uranium of the type that Iran has been trying to acquire on the international market for years," the sources told the Financial Times. "It would certainly be possible to transfer this from Syria to Iran by air."
Tehran would be obligated to inform the U.N. nuclear watchdog of any such development and to place transferred material under international oversight, according to Carnegie Endowment for International Peace nuclear specialist Mark Hibbs.
"All these requirements would likely be moot, of course, if any uranium metal fuel in Syria subject to transport were not to have been declared to the IAEA," Hibbs wrote last week on the Arms Control Wonk blog. "And you can bet that 50 [metric tons] of uranium metal would not have been declared, since Syria continues to deny that it was running a clandestine nuclear program when Israeli aircraft took off for [Dair Alzour]."
Ros-Lehtinen suggested the alleged Syrian uranium cache could be "weapons-grade," but theTimes described the material as "unenriched" and a Washington Free Beacon report refers only to claims of "enriched" material. The lawmaker as of press time had not replied to a request to explain the discrepancy.
Separately, Ros-Lehtinen urged the United States and partner nations to demand that Syrian rebel forces "publicly and formally" pledge in a "post-Assad era" to eliminate Syrian WMD operations and relinquish related assets to international authorities. "Failure to make this commitment must be taken into consideration when determining continuing support for the opposition forces," she said.
The Syrian government is widely assumed to hold a chemical arms stockpile encompassing hundreds of tons of blister and nerve agents, along with various types of delivery systems. Reports in late 2012 indicated that the military had been detected mixing precursor materials for the nerve agent sarin and pouring the mix into munitions.
There are also suspicions that Syria has a biological weapons program.