Pentagon goes on an $8 billion year-end technology spending spree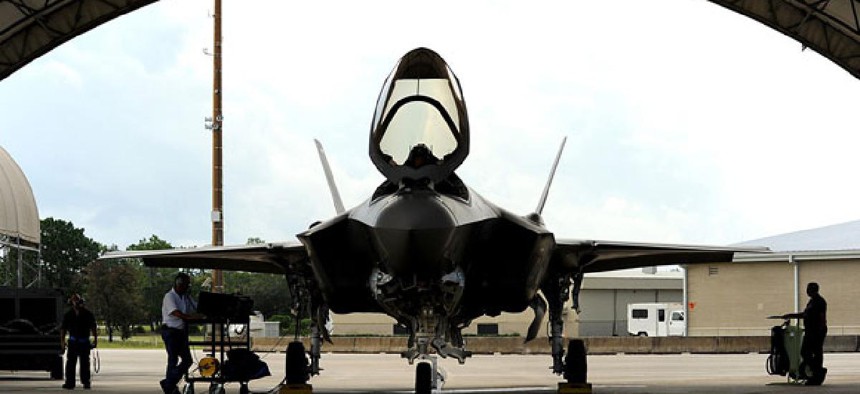 While lawmakers went into overdrive to hammer out a budget deal before tax increases and automatic spending cuts kick in Jan. 1, the Defense Department pumped out billions of dollars in new weapons contracts in a move apparently designed to obligate funds before year end. If Congress and the White House do not reach a budget agreement today the Pentagon will have to absorb $50 billion in automatic spending cuts under a budget rule known as sequestration.
On Sept. 20, Pentagon Comptroller Robert Hale told members of the House Armed Services Committee that budget cuts imposed under sequestration would have no impact on prior-year funds already obligated on existing contracts.  
Among the deals announced Dec. 28 was $4.9 billion in contracts to Lockheed Martin Corp. for the Pentagon's most expensive project in history -- the F-35 Lightning II fighter aircraft.
The Pentagon also awarded Lockheed Martin a $1.9 billion production and launch contract for the fifth and sixth satellites in the Advanced Extremely High Frequency satellite system, which has a maximum data rate of 8.192 megabits per second. The first two AEHF satellites were launched in August 2010 and May 2012. Launch of the third satellite is planned for September 2013; the fourth remains under construction. Each satellite is expected to have an orbit life of 14 years.
Also announced Friday was an $895 million contract to Boeing Co. for hardware and software upgrades for the Air Force C-17 III transport aircraft. A week earlier, on Dec. 21, the Naval Air Systems Command said it planned to issue Boeing a multi-year contract for 72 high-tech patrol aircraft based on the company's 737-8 commercial jet.
The Navy did not provide the value of the multi-year contract, but a December 2011 Pentagon report pegged the cost of the P-8 aircraft at $260.8 million each, or $18.8 billion for 72.
Frank Kendall, undersecretary of Defense for acquisition, technology and logistics, said in November if sequestration goes into effect, the Pentagon will undergo a tortuous exercise in which "we essentially have to go into every budget account and maybe every budget line, and take the same percentage out of essentially every line."
Defense Secretary Leon Panetta told Defense personnel in a Dec. 20 memo that if the budget cuts do occur, they would not necessarily require immediate spending reductions.
Panetta added that there will be no immediate civilian personnel actions such as furloughs.
"Should we have to operate under reduced funding levels for an extended period of time, we may have to consider furloughs or other actions in the future," Panetta said.  "But let me assure you that we will carefully examine other options to reduce costs within the agency before taking such actions." He said.