Navy blows development of officer candidate medical database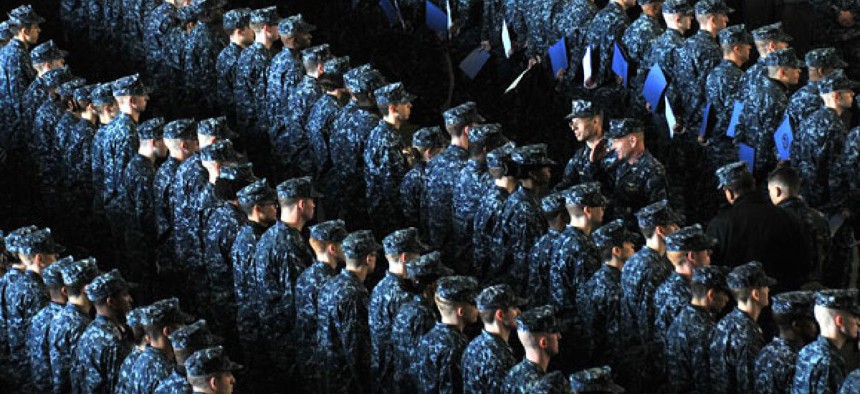 The Space and Naval Warfare Systems Center, which manages contracts for numerous other federal agencies, failed to develop a database for the Defense Department organization that conducts medical examinations for all military officer candidates and has run over its budget by $7 million, Nextgov has learned.
In a presentation June 28, Jackie Goff, business and force portfolio manager for SPAWAR Atlantic, said the center had developed a portal for the Colorado Springs-based Defense Medical Examination Review Board, which determines the medical qualification of 50,000-plus applicants annually for appointment to a U.S. service academy, the Uniformed Services University of the Health Sciences, and the Reserve Officer Training Corps.
But a Defense source told Nextgov that Goff's statement is "false . . . there has been no completed development or delivery of a Web-based portal system. The anticipated delivery date is unknown, but it certainly won't be delivered until late 2013, if at all."
Sen. Claire McCaskill, D-Mo., said in a Dec. 7 letter to Chief of Naval Operations Adm. Jonathan Greenert, that she has learned of problems with two separate contracts SPAWAR managed for the Medical Review Board.
McCaskill, chairwoman of the contracting oversight panel for the Homeland Security and Government Affairs Committee, said SPAWAR's management of a contract for service academy exams was "so inadequate that the General Services Administration had to assume responsibility."
She said the second contract for the Medical Review Board software development is "now behind schedule and more than $7 million over budget because SPAWAR underestimated the project's cost." SPAWAR also has failed to provide the Medical Review Board with information and documents necessary to understand the database development problems.
Stephen Rosenzweig, chief executive officer for Philadelphia-based Concorde Inc., which originally developed an online system for the Medical Review Board, said SPAWAR opted to develop a back-end system on its own rather than contract with his company. As a result, he said, "the system does not work." Rosenzweig said SPAWAR tried to emulate what his company has done and projected it would cost another $7 million to develop a workable system.
McCaskill asked Greenert to provide her with "all reports, audits, and investigations relating to contract management for the past two years" by Dec. 20. Officials in Greenert's office and SPAWAR did not return calls for comment.
Last week, the Veterans Affairs Department told Nextgov that it has a wide-ranging development agreement with SPAWAR for work on the integrated electronic health record project expected to cost $4 billion.