Industry groups demand changes to Issa's IT reform bill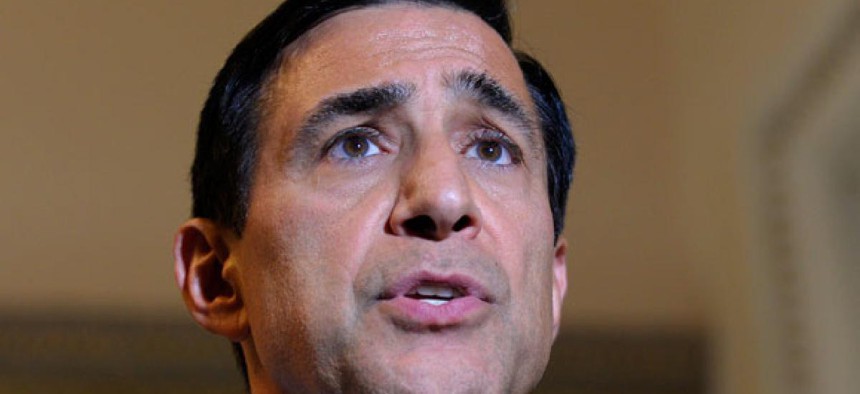 This story has been updated to include comment from Issa.
A coalition of technology vendors demanded changes on Friday to proposed legislation that would overhaul the way agencies purchase information technology, saying they will not endorse the bill in its current form.
The groups criticized the Federal Information Technology Reform Act, proposed by Rep. Darrell Issa, R-Calif., for creating a new Commodity IT Acquisition Center tasked with overseeing large, governmentwide information technology contracts.
That new center might "create more confusion for government procurement officials and could hamper the acquisition process, not simplify it," a spokeswoman for one of the industry groups, TechAmerica, said in an email announcing the letter.
The groups' core concern is that the new center might weaken the power of the General Services Administration's schedules program. Schedules are essentially menus of technology goods or services contracts GSA has negotiated with core vendors. Other agencies can buy goods and services off those schedules without doing any negotiating themselves, saving time and money.
A spokesman for the House Oversight and Government Reform Committee said that the proposed acquisition center was designed to make it easier for IT vendors to bid on federal contracts by reducing the current web of acquisition requirements.
"All these contracts and operations overlap, requiring industry to apply to each of them individually, at great expense, just to have the opportunity to bid on federal IT opportunities," Spokesman Ali Ahmad said. "Industry stands to benefit the most from improvements to the process."
Issa is chairman of the oversight committee, which oversees most government efficiency efforts. He began gathering public feedback on the IT reform act several months ago and has said he plans to introduce it early in 2013. 
Industry representatives and former federal officials raised similar concerns during an October discussion on the bill sponsored by the George Washington University Law School, saying the acquisition center could end up duplicating much work that's already being done at GSA.
Friday's letter also criticized Issa's legislation for urging agencies to use open source software, which is often cheaper than proprietary software and sometimes easier to update and maintain. That suggestion "strays from the core principle that statutes should be technology neutral," the organizations said.
"Under no circumstances do we believe the government should promote or mandate consideration of commercial IT products or services based specifically upon the licensing, contracting, or business model used to develop them," the industry groups said.
Ahmad said the draft legislation did not promote or mandate open source but that the committee might refine the language based on feedback from industry and others.
The groups also expressed concern the legislation would lead to unintended consequences that would hurt small and minority owned businesses that contract with the government, often by managing the installation and technical support for systems developed by larger vendors. The letter did not elaborate on what those consequences might be.
Ahmad denied that the proposed legislation would hurt small vendors.
"By any measure, existing strategic sourcing programs have increased small business participation in government procurement opportunities," he said. He added that committee staff "is working with small business experts to anticipate and study any unintended impacts upon small businesses and value-added resellers."
If passed into law, the IT reform bill would mark the largest change to government technology buying since the 2002 E-Government Act and the 1996 Clinger Cohen Act, which created agency chief information officers.
The legislation could save taxpayers as much as $20 billion through smarter contracting and less overhead, Richard Beutel, the House Oversight and Government Reform Committee's senior counsel for acquisition policy, has said.
In addition to creating the Commodity IT Acquisition Center, the legislation would also give agency CIOs authority over technology spending, something only the Veterans Affairs Department CIO has now.
The industry letter expressed support for that reform as well as for other sections of the proposed bill that would put the power of legislation behind existing directives from GSA and the Office of Management and Budget, including those requiring agencies to consolidate federal data centers and slash the number of government websites.
"I am very encouraged to have the strong support from these organizations for this reform effort as well as for the vast majority of the draft legislation, including the consolidation and increased accountability of Chief Information Officers," Issa said in a statement. "I released the discussion draft to promote exactly this kind of dialogue amongst all stakeholders."
The letter also was signed by leaders of the Coalition for Government Procurement, the Business Software Alliance and the Information Technology Industry Council.
"We agree that there is a need to invest in the acquisition workforce and to consolidate unnecessary governmentwide and multi-agency purchasing agreements," the groups said. "However, we believe that other implementation options would be more effective and would avoid unintended consequences in the future."
On Monday, Issa and Rep. Gerry Connolly, D-Va., ranking member of the Government Reform Committee's panel on federal technology policy, will discuss the need for federal IT reform at Nextgov Prime. You can watch the discussion live at 9 a.m. on Nextgov.