Industry responds cautiously to IT reform act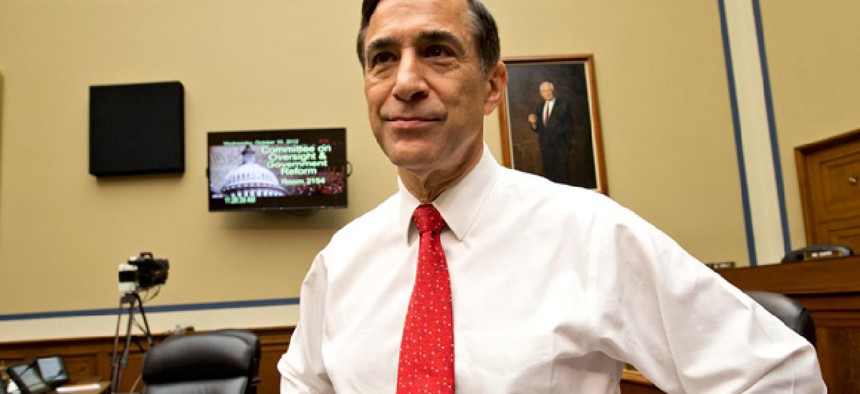 Acquisition experts responded cautiously Thursday to a legislative proposal to overhaul federal information technology purchases, noting the reforms could make IT buying more efficient but could also lead to more paperwork without more payoff.
The proposed Federal IT Acquisition Reform Act would grant agency chief information officers greater budget authority and make it easier for technology buyers in one agency to rely on other agencies' expertise through centers of excellence.
The legislation could save taxpayers as much as $20 billion through smarter contracting and less overhead, Richard Beutel, the House Oversight and Government Reform Committee's senior counsel for acquisition policy told an audience at the George Washington University Law School.
Government officials told Oversight investigators about half of their current budget goes to support legacy technology that's obsolete but can't be easily replaced through the current acquisition process, Beutel said. Industry officials put the figure closer to 75 or 80 percent, he said.
"One thing is just crystal clear," Beutel said. "The current acquisition cycle does not map against this industry in any way shape or form."
However, the legislation, proposed by Oversight Chairman Rep. Darrell Issa, R-Calif., could create more bureaucracy surrounding the acquisition process rather than less, experts at the panel discussion said.
The reform act's value is also diminished because it does not address complicated Pentagon acquisition guidelines, they said.
Oversight officials chose to steer clear of major changes to defense acquisitions requirements because they thought there was little chance of passing such extensive legislation, Beutel said.0
The defense IT budget accounts for about half of the government's $80 billion in annual IT spending.
The military could voluntarily consult with experts at agency-based Assisted Acquisition Centers of Excellence described in the act, Beutel said. But without mandates on military purchases, the act's budget effect will be significantly limited other panelists said.
Organizers billed Thursday's event as an opportunity for industry and others to weigh in on the proposal while lawmakers work out the final details. Issa has been floating a draft version of the act for several months. He plans to hold at least two hearings on the legislation in January -- one at the IT subcommittee level and one with the full Oversight Committee -- and to formally introduce it soon afterward, Beutel said.
Rep. Gerry Connolly, D-Va., ranking member on the IT subcommittee, has thrown his support behind the main goals of the proposed legislation, which would also codify several Office of Management and Budget mandates focused on consolidating federal data centers and making government information more easily available online.
The changes might make purchasing easier on the government side but the proposed law fails to address the complexity and difficulty commercial software producers face in selling to the government, said Angela Styles, the former administrator for federal procurement policy at the Office of Management and Budget.
"I guarantee you there are a lot of commercial software companies that want nothing to do with the federal government because the federal government isn't very good at understanding licensing," she said. "It isn't very good at understanding intellectual property and it scares off some of the best companies that have some of the best solutions."
Styles leads the government contracts group at the law firm Crowell and Moring.
Dave Drabkin, former deputy chief acquisition officer at the General Services Administration, focused on a governmentwide Commodity IT Acquisition Center, proposed in the act, which would be charged with consulting on most acquisitions over $500 million and establishing acquisitions guidelines and best practices.
The act describes the acquisitions center as being based inside an agency with significant acquisitions experience and notes that the center could be moved at five year intervals if the hosting agency is underperforming.
As written, the center must either be based in GSA or would be duplicating much of GSA's mission, said Dravkin, now director of acquisition policy at Northrop Grumman.
"Why would you create another centralized agency whose sole focus is to buy goods and services for other federal agencies?" he asked.
---
Listen to audio of Thursday's discussion between House Oversight Committee senior counsel for procurement Richard Beutel and industry acquisition leaders concerning Rep. Darrell Issa's proposed Federal IT Reform Act. The discussion took place at the George Washington University Law School. The audio begins with Beutel describing the proposed act.
CORRECTION: The original version of this story mischaracterized Richard Beutel's description of the proposed legislation's potential effect on the Pentagon.