For at least two years the Military Health System has touted a software tool under development at a cost of more than $18 million as a way to help gather information about troops impaired by the signature wound of the wars in Afghanistan and Iraq -- traumatic brain injury, which results from exposure to roadside bombs. But a six-week probe by Nextgov shows this tool has nothing to do with the management or assessment of TBI cases.
MHS reported that 244,719 troops have been diagnosed with TBI from 2000 through the first quarter of fiscal 2012, up 72,579 from 2009, when it awarded the contract to Vangent Inc., now owned by General Dynamics.
The Defense Health Information Management System, which manages information technology projects for MHS, said in a fact sheet posted on its website in October 2010 that the Traumatic Brain Injury/Behavioral Health software tool would include capabilities to fulfill a Defense Department "mandate requiring neurocognitive readiness assessments for all service members within six months of deployment."
Defense uses these assessments, including the Automated Neuropsychological Assessment Metrics and the Military Acute Concussion Evaluation, to determine the impact of blast injuries on soldiers' brains when there are no visible head wounds.
Vangent won the original contract for the TBI/BH tool , valued at $14.1 million, in February 2009; a follow-on contract for $4.2 million was awarded in November 2010. In a press release about the follow-on contract, Vangent said its tool "provides the capability for creating and securely storing psychological assessments, behavioral health encounters, as well as sensitive information."
Army Col. Dacosta Barrow, program manager for DHIMS in early 2011, said in a presentation at the Health Care Information and Management Systems Society conference in Orlando, Fla., on Feb. 23, 2011, that once deployed, "TBI/BH will improve behavioral health-related workflow and capabilities to meet the mandate requiring neurocognitive readiness assessments for all service members within six months of deployment."
The Air Force evaluated the TBI/BH tool at Robins Air Force Base in Georgia in the fall of 2011 and determined the software did not live up to the hype. Lt. Col. Robert Vanecek, Air Force chief of behavioral health optimization, told Nextgov in an interview last week that "we scratched our heads over the name . . . this project has nothing to do with TBI. It is a standard clinical documentation tool."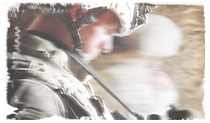 Broken Warriors is an ongoing series on mental health issues in the military.
He added the TBI/BH software does not pull in or use data from traumatic brain injury assessments such as ANAM. Instead, Vanecek said, it recorded information on symptoms such as depression, anger, suicidal ideation and post-traumatic stress disorder. Another limitation was the software tool did not interface with the Defense electronic health record, requiring clinicians to input data into two systems, Vanecek said.
Clinicians reported the system was slow to load and sometimes they aborted the sessions as a result, he said. Patients found the self-assessment portion of the tool complex and off-putting, he added. Vanecek said the military electronic health record system, known as AHLTA, now can handle the functions of TBI/BH software at a lower cost; the Air Force recommended canceling the program.
Nextgov first submitted a query to the Military Health System on June 8, asking about the status of TBI/BH. Cynthia Smith, a Pentagon spokeswoman, said in a statement Tuesday that officials at the Defense Health Information Management System realized in early 2010 the TBI/BH tool had nothing to do with traumatic brain injury; DHIMS received the Air Force evaluation in mid-2011, she said. Smith also said the DHIMS fact sheet for TBI/BH was "was originally inaccurate but later updated." An extensive Web search showed that DHIMS did update the fact sheet in April, when the reference to TBI was removed and the tool was described simply as "a Web-based application used to document behavioral health care across the services."
Mark Meudt, a spokesman for General Dynamics, which acquired Vangent in October 2011, said Vangent was tasked by DHIMS to develop only a behavioral health module, not a TBI tool, a task contracted to another company.
Smith said TBI/BH was "not developed to accurately diagnose traumatic brain injuries" but ended up with the moniker because it was lumped in with other programs focused on TBI. Barrow's slides describing the TBI/BH tool at the Orlando conference also were inaccurate, Smith said, and should have been used to describe another tool.
The TBI/BH contract ended in June, Smith said.
Lt. Col. Millard Brown, an Army psychiatrist and program manager for the Office of the Surgeon General/Army Medical Command Behavioral Health Data Platform, said the service tested the TBI/BH tool at West Point in the fall of 2011. In a statement he said it had "severe limitations," which he did not specify. He added the ability to create separate, confidential behavioral health notes in the tool "is not currently required nor desired." Generating patient notes in a system separate from the military electronic health record "causes increased documentation complexity and a decreased capability to appropriately communicate with other medical team members to optimize care."
Brown said the Army has developed its own behavioral health data platform, which it plans to install in all behavioral health clinics.
Dr. Chrisanne Gordon, chairwoman of Resurrecting Lives , a TBI research, treatment and advocacy group based in Columbus, Ohio, said the amount of money the Pentagon spent on the TBI/BH tool could have paid for a year of cognitive training and rehabilitation for more than 700 troops.