Video: Longest running Earth-imaging satellite turns 40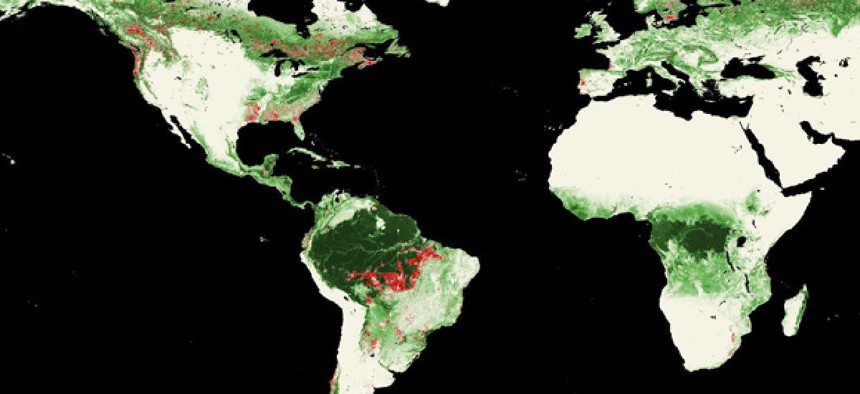 Start of Brightcove Player By use of this code snippet, I agree to the Brightcove Publisher T and C found at https://accounts.brightcove.com/en/terms-and-conditions/. This script tag will cause the Brightcove Players defined above it to be created as soon as the line is read by the browser. If you wish to have the player instantiated only after the rest of the HTML is processed and the page load is complete, remove the line. End of Brightcove Player Start of Brightcove Player By use of this code snippet, I agree to the Brightcove Publisher T and C found at https://accounts.brightcove.com/en/terms-and-conditions/. This script tag will cause the Brightcove Players defined above it to be created as soon as the line is read by the browser. If you wish to have the player instantiated only after the rest of the HTML is processed and the page load is complete, remove the line. End of Brightcove Player
During four decades in operation, NASA's Landsat satellite system has tracked the destruction of tropical rainforests, the loss of conservation areas to forest fires, and the shrinking of lakes and inland seas due to irrigation.
The longest-running Earth-imaging satellite also has provided free data for researchers studying everything from climate change to urbanization and population growth and provided many of the base images for Google Earth and other mapping tools.
NASA and the U.S. Geological Survey, which jointly manage the Landsat program, presented some of the satellite system's most stunning images during an event Monday to commemorate the 40th anniversary of its launch.
This time-lapse image of the Columbia Glacier, taken between 1986 and 2011, for example, shows its swift retreat as a result of changing global weather patterns:
Landsat told political and social stories as well. This 1972 to 2010 time lapse shows the massive growth of Beijing's municipal footprint marking China's rise as an economic superpower:
Landsat satellites orbit Earth every 90 minutes and over a period of 16 days capture a 360-degree view of the planet, said James Irons, Landsat's data continuity mission project scientist at NASA's Goddard Space Flight Center.
Seven Landsat satellites have been launched throughout the program's history. The eighth is scheduled to launch in early 2013, according to Waleed Abdalati, NASA chief scientist.